Anti-Vibration System - AVS®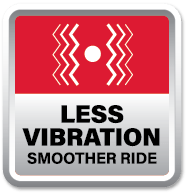 Tired of having a sore upper body from your rider mower? Our Anti-Vibration System - AVS® -engines feature a patented Linear Balancing System that eliminates side-to-side motion of traditional counter and rotating balance designs to provide a smooth ride. This reduction in vibration does not only provide more comfort when mowing the lawn but it also means less wear & tear on your engine and equipment. This leads to longer engine and equipment life. Enjoy a smooth and comfortable ride!
---
What are the main benefits for you?
---
These engines provide you with AVS®
---
Why you should choose Briggs & Stratton

---
Easy features you can rely on