ReadyStart®: Just pull for easy starting.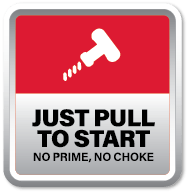 When you're ready to get to work, our engines are too. The ReadyStart system sets the standard for easy rope starting because it automatically senses the engine temperature to deliver the correct amount of fuel to the carburetor. This eliminates the need to manually prime or choke the engine before starting. This means starting without prime and choke and less effort for you. Additionally our S2 Start Guarantee® offers you peace of mind that our engines will start within two pulls every time guaranteed. By guaranteed we really mean guaranteed - our ReadyStart engines start at the latest on the second attempt. If not, it will be fixed for free.* The S2 Start Guarantee is offered on all our ReadyStart engines. 
*More information about the conditions. https://www.briggsandstratton.com/eu/en_gb/support/starting-promise.html

---
What are the main benefits for you?
---
These engines provide you with ReadyStart®
---
Why you should choose Briggs & Stratton

---
Easy features you can rely on