Mow N'Stow®: Space Saving Innovation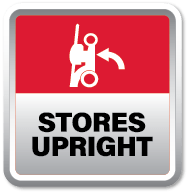 Not enough space in your garage or garden shed for storing your lawn mower? Then we have something perfect for you: the breakthrough Mow N'Stow technology! Lawn mowers with Mow N'Stow are easy to store and easy to clean, while saving up to 70% of space without damaging your engine.

It also provides easier access to clean under the deck and service the blade.
With a quick release handle, advanced engine design, and easy blade access for superior cleaning, Mow N'Stow is a revolution in mower design.
---
How does Mow N'Stow® work?
---
What are the main benefits for you?
---
These engines provide you with Mow N'Stow®
---
Why you should choose Briggs & Stratton

---
Easy features you can rely on