ENGINE FEATURES
Making your Life Easier
Today our engines are easier to use than ever. And we are doing it for you - to make life easier.
Our engines combine a multitude of power innovations and provide you with the best-in-class mowing experience. Learn more about our features specifically developed for Briggs & Stratton engines. Ideal for the royal class of lawn care and built for small to big lawns.
---
Easy Starting Options
InStart®: Easiest Starting Ever
Tired of pulling a rope to get your lawn mower engine started? Our InStart technology means no more pulling the cord to start mowing: just push the button or turn the key for instant starting!
ReadyStart®: Just Pull for Easy Starting
The ReadyStart system sets the standard for easy rope starting because it automatically senses the engine temperature to deliver the correct amount of fuel to the carburetor.
Prime & Pull: Faster Starting without Choke
Just prime for the right amount of fuel, pull the starter cord - and go. Our prime & pull engines don't just deliver reliable petrol power for effortless mowing of high and wet grass throughout the entire season.
Automative Style Starting: Like a Car
The starting system ensures electric start at any temperature. You can start your lawn mower like a car - with EFM-technology at any temperature from -28 to 50°C, with ReadyStart from 0 to 49°C.
---
Complementary Engine Features
Mow N'Stow®: Space Saving Innovation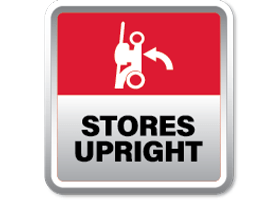 Lawn mowers with Mow N'Stow are easy to store and easy to clean, while saving up to 70% of space without damaging your engine. It also provides easier access to clean under the deck.
Just Check & Add™: Easy Maintenance
With Just Check & Add you will never have to change the oil. Just check the oil level and fill for the life of the engine. The next ease: No tools are required for basic engine maintenance. 
AVS®: Anti Vibration System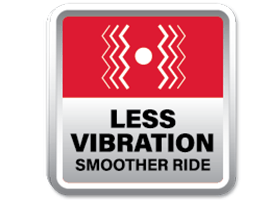 Our AVS - Anti-Vibration System engines feature a patented Linear Balancing System that eliminates side-to-side motion of traditional counter and rotating balance designs to provide a smooth ride.
Quieter Operation with Petrol Power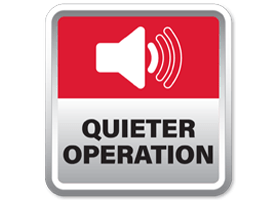 Tired of a noisy lawn mower? Many Briggs & Stratton engines come with advanced muffler technology for a noise reduced mowing experience and improved operator comfort.
Durable Package
The premium feature package for our enignes includes: Full Pressure Lubrication System, Advanced / Cyclonic Debris Management, Super-Finished Crank Shaft, Premium Oil and Fuel Filters.
Robust Power
Briggs & Stratton engines that include a durable iron cast sleeve withstand wear and abuse for extended durability. The feature guarantess improved oil control which ensures less waste.
Superior Air Filter
Briggs & Stratton engines equipped with a heavy-duty air filter are better protected from dirt and debris. These advanced air filtration systems result in a longer engine life.
---
Get to Know our Engines