How To Locate Your Lawn Mower Engine Model Number
Knowing the 10 character model number of your Briggs & Stratton engine will make it easy to order maintenance or repair parts either online or from your local dealer. The following is an example of what the engine model number looks like:

Please Note: Briggs & Stratton engine model numbers are 10 characters. If the model number on your Briggs & Stratton engine is only 9 characters, please enter a 0 (zero) at the beginning of the model number.
Where to Locate Your Engine Model
As shown in the Where to Find Your Lawn Mower Engine Model Number video, the engine model number is generally a number stamped into metal directly on your engine. Some push mower engines come with a cover or "shroud". It should be noted that these covers come in a variety of colors, sizes and shapes. Regardless of your cover the engine model number will be in one of 3 locations: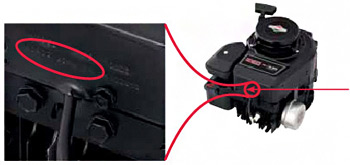 Above the spark plug
Tools you may need:
Flashlight
1/4" or 5/16" socket or screwdriver
---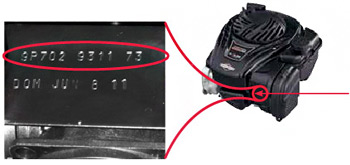 On the front of engine
Stamped on metal plate in between the overhead valve cover (OHV) and the air filter.
---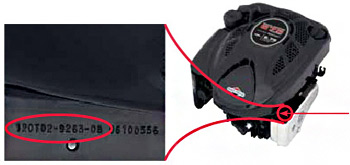 Above the muffler
Stamped on the sheet metal above the muffler, which can be on the right or left side of the engine.
---