Riding Mower Engine Tune Up Guide
---
---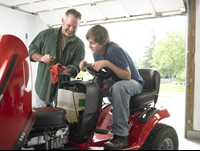 We understand. There's a certain bond you have with your weekend turf warrior companion: your riding mower. So, of course, you don't want to drive it into the ground. For smooth mowing all season long, a spring tune up and ongoing maintenance – like oil changes and cleaning – will take both of you far. And you won't have to part with your backyard buddy; it's not that difficult to give your riding mower a tune up yourself. Just follow this step-by-step riding mower tune up guide. But before you start, remember to read your Operator's Manual carefully.
1. Disconnect the riding mower battery.
Before you do any maintenance, unplug your battery for safety.
2. Clean it up.
Your mower has moved through a lot of grass, twigs, leaves and dirt that can get stuck inside and outside your mower and affect performance. To get to the gut of the problem, raise the hood and brush off any debris that's clogged the inside. Then, check your riding mower deck and carefully scrape away any gunk that's stuck underneath and on the riding mower blades.
3. Lubricate riding mower parts.
Use a grease gun to apply lubricant to small parts under the hood.
After a season of mowing, chances are you'll need to replace a dirty air filter. Simply remove the filter, clean the surrounding area and install a nice, clean replacement.
5. Replace spark plugs.
For easier start-ups, better gas mileage and to keep the riding mower engine running smoothly, replace your riding mower spark plugs.
6. Check your riding mower belts.
Make sure your belts aren't worn or damaged, and check for tension. If you need to replace the riding mower belts, all it will take is a little screwdriver action.
7. Check your riding mower blades.
Your blades should be sharp enough to make a nice, clean cut. Dull blades can damage your grass. If it's time to sharpen your riding mower blades, you should leave this to the professionals. Find a service dealer near you.
Unscrew the plug from the drain funnel and release the oil into a bucket or recycled milk jug. Replace the plug and fill your riding mower with the manufacturer's suggested oil. And remember: You can drop off your used motor oil at a participating Briggs & Stratton dealer to have it recycled – free of charge. Find a dealer in your area.
9. Check the tire pressure.
Be sure your riding mower tires are aired properly.
10. Reconnect the riding mower battery.
You're done! Now go enjoy a good long ride with your good lawn buddy.
---