How to find, fix and install a lawn mower fuel pump?

---
---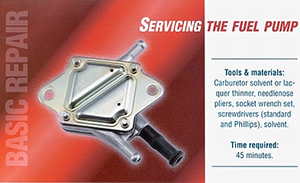 A fuel pump is used when the gas tank is mounted lower than the carburetor and cannot rely on gravity to carry gas through the fuel line. Briggs & Stratton fuel pumps have either a plastic or a metal body and develop pressure using the vacuum in the crankcase, which is created by the motion of the piston. A fitting on the crankcase cover or the dipstick tube draws the pressure to pump fuel.
Where can you find the fuel pump in your small engine?
The fuel pump is typically mounted on the carburetor, near the fuel tank or between the tank and carburetor. Reference diagram below.

Turn off the fuel valve (if equipped) at the base of the tank where the fuel line is attached. If there is no fuel valve, stop the flow of gas using a fuel line clamp.

Loosen the mounting screws and remove the pump from the mounting bracket or carburetor.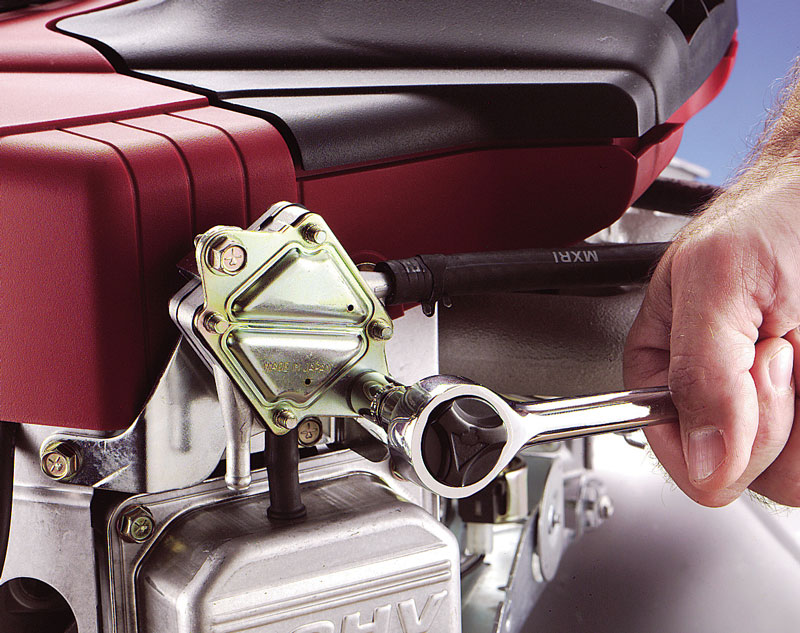 Check for hairline cracks and other damage to the external surfaces of the pump. If it is damaged and has a metal body, discard the pump and perform a fuel pump replacement.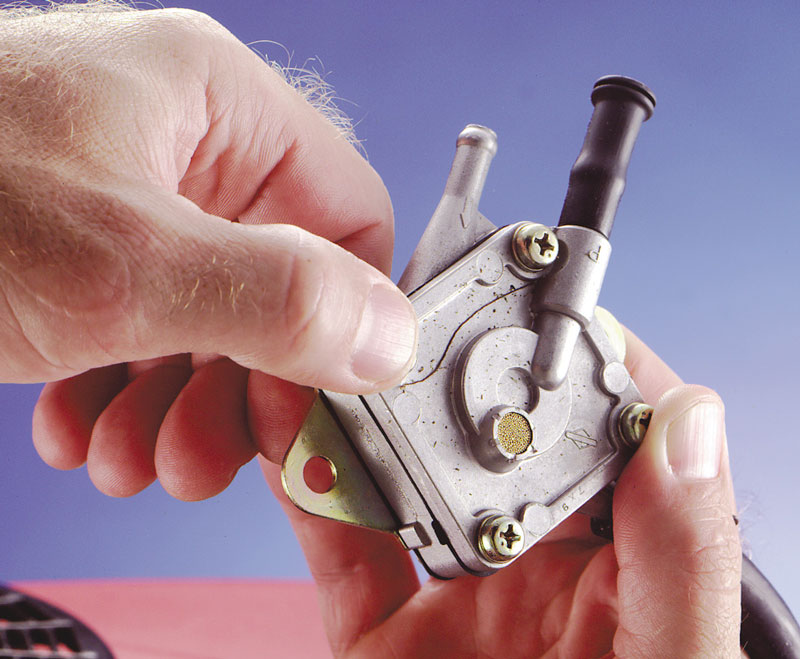 With the fuel valve closed or the line clamped, remove the mounting screws.

Then, disconnect the fuel hoses using needle nose pliers to loosen the clips.

Remove the screws and disassemble the pump.

Inspect the body for cracks or other damage. Soak metal parts in all-purpose parts cleaner. The pump body may be soaked for up to 15 minutes.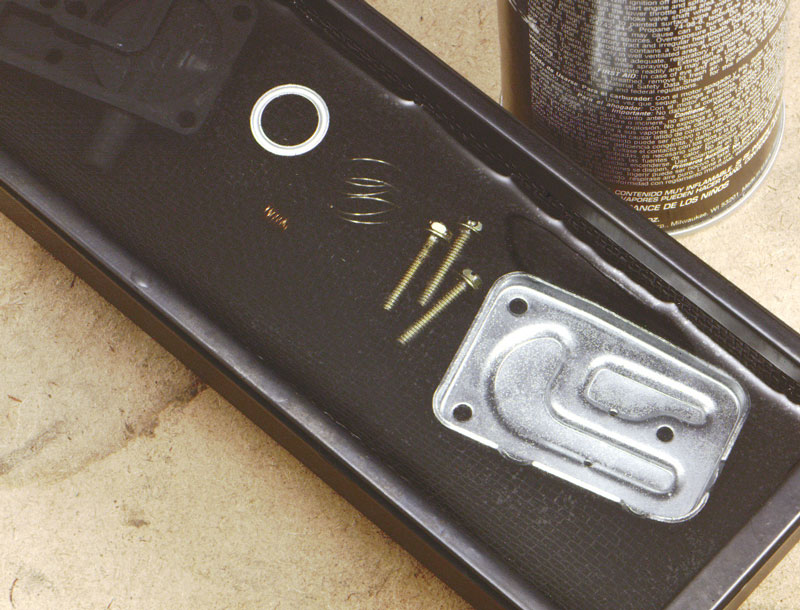 Check the hoses for cracks, softening or hardening, and replace any faulty parts.

Discard old gaskets, diaphragms and springs, and replace them with parts from an original manufacturer's repair kit.
Different pumps will include some variants in the part configuration, but these basic instructions can guide you through installing the replacement fuel pump. Picture below is round fuel pump, one of the most common variants. It cannot be repaired, only replaced.
You can also check out our Fuel Pump Replacement PDF for more guidance in replacing this small engine part.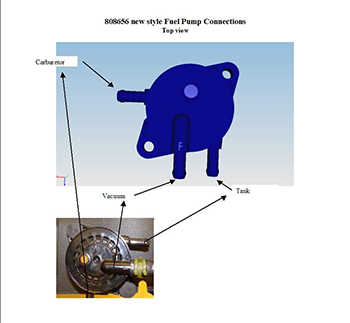 Place the diaphragm spring and then the cup over the center of the pump chamber. Also insert a valve spring.

Install the diaphragm, gasket and cover and attach with pump screws. Tighten the screws using a torque wrench.

Attach the pump to the carburetor or mounting bracket, using the pump mounting screws.



For more information about your fuel pump, contact a Briggs and Stratton Dealer in your neighborhood or consult your Small Engine Manual.

---