How Can I Find the Engine Serial / Model Number, Type & Trim?
---
---
How Do I Identify a Briggs & Stratton Engine?
The Model, Type and Code numbers, stamped directly into the engine, are used to identify our engines. Engines used in lawn mower applications usually have the model numbers stamped directly into the blower housing, muffler heat shield, or a few inches above the spark plug. Depending on the style of engine shroud used, the engine code numbers may be covered. It may be necessary to remove this shroud in order to locate the Model, Type, and Code for engine identification.
To get step-by-step instructions on finding your engine model number, type or code, watch this short video:
Additional Model, Type, and Code location videos, grouped by the type of equipment the engine powers,are also available below: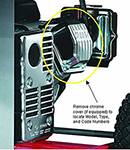 Where Can I Find the Model Numbers, Type & Codes on OHV Generator Engines?
Many horizontal shaft, overhead valve engines have the serial and model numbers stamped into the OHV rocker cover. However, on certain overhead valve powered generators, the equipment manufacturer installs a decorative chrome rocker cover OVER our cover. If your engine has a decorative cover, it may be necessary to remove it in order to locate the model number, type, and engine code.
If you need help identifying your Briggs & Stratton engine, please visit our engine model number locator guide to find these numbers.
Also, be aware that the numbers found on the Engine Emissions Label (bottom left) can be confused with the engine Model, Type and Code. Unfortunately, these numbers cannot be used to identify your engine.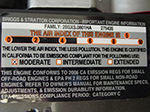 What do the Model, Type, and Code numbers mean on your engine?
To view a chart which explains our post 1965 model numbers, please visit our Numerical Designation System page.
If you're looking for engine model numbers, type or code for any concerns, your best source of information would be a Briggs & Stratton Dealer. They have all the information relating to Briggs & Stratton engine warranty information, replacement parts, short blocks, pricing, service/repair, specifications, etc.
 
---