Using the Right Fuel
---
---
Condition Your Engine to Perform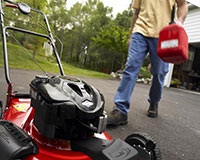 Use Briggs & Stratton Fuel Fit™ fuel stabilizer products to help keep your fuel fit for up to 24 months,promote quick starting, and clean the fuel system. Here are some simple guidelines to keep your fuel system in shape and ready to perform:
• Use clean, fresh, unleaded petrol.
• Purchase fuel in a quantity that can be used within 30 days to assure fuel freshness and volatility tailored to the season.
• Do not mix oil with petrol.
• Always treat new fuel with stabilizer to protect your equipment throughout the season.
---