History of the Lawn Mower
---
---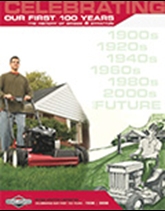 From steam powered lawn mowers to Briggs & Stratton's modern gas powered engines, lawn mowers have come a long way. 

How It All Began
Formal lawns with neatly manicured grass began appearing in France in the 1700s, tended to by grazing animals or hand-cut with shears and scythes. In 1830, Englishman Edwin Bear Budding was granted the patent for the first mechanical lawn mower, based on a tool used to uniformly cut carpet and comprised of a series of blades around a cylinder. 

Nearly 40 years later, the reel lawn mower came to the United States. Initially made to be horse-drawn, Elwood McGuire of Richmond, IN designed the first widely popular human-powered push lawn mower.
Fact: 
In the early years of equine-drawn lawn mowers, horses were outfitted with soft leather boots to protect delicate grasses from damage.
From Horse-Drawn to Fuel-Powered
In 1902, Ransomes of Ipswich, another English company, produced the first commercially purchasable lawn mower powered by an internal combustion gas engine. 1919 brought the first gas powered lawn mowers, manufactured by Colonel Edwin George, and gang mowers, those with multiple sets of blades, to the United States.
Engine Advancements
Founded in 1908 by a partnership between inventor Stephen F. Briggs and investor Harold M. Stratton, Briggs & Stratton was already providing power for innumerable agricultural and military applications by the 1920s. In 1953, however, Briggs & Stratton revolutionized the lawn and garden industry by developing the first lightweight aluminum engine. This light aluminum engine improved the ease of use of rotary lawn mowers and was further advanced in 1958 with the introduction of Kool Bore™ (all aluminum) and Sleeve-Bore engines.
Going Green
In recent years, the company has made leaps and bounds in greening their manufacturing processes by making engines comprised of 98% recycled aluminum. Read more about Briggs & Stratton's green initiatives.
Want to learn more about the history of the lawn mower engine and Briggs & Stratton? Check out our Briggs & Stratton History PDF.

---