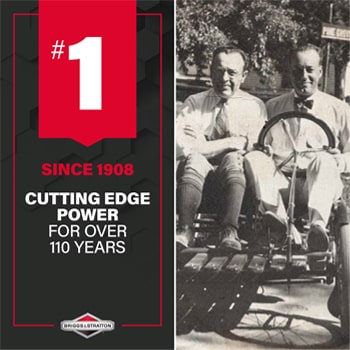 Legendary Past. Innovative Future.
Proud to be in business for 110 years.
Although we are known for our reliable engines and outdoor power equipment, we have a rich history. For over 110 years, Briggs & Stratton has cultivated a legacy of innovation that will last for years to come. As a global market leader, we have a long term philosophy of continually improving the user experience of our engines. Innovation is our pulse, we are driven by outstanding power and performance and are proud to say that our engines, designed and built by experts, are now easier to use than ever before. For over 110 years, we have powered equipment around the world. That's the reason customers look for the Briggs & Stratton brand when they shop for power equipment.
---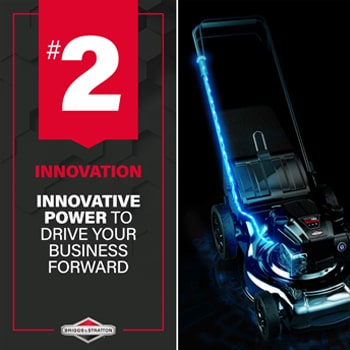 Innovative Power.

We drive your business forward.
We make your customers' lives easier by combining the best features that will help sell your products. From easy electric starting to easy storage and easy maintenance - we have it all. Our InStart® technology brings together the power of petrol performance with the ease of a lithium-ion battery technology, which is integrated in the engine itself. No more pulling the cord to start the engine, just push the button. Our breakthrough Mow N'Stow® engine technology allows the mower to be stored vertically, reducing the storage footprint needed by up to 70%*. You get the ultimate space-saving solution: a petrol power lawn mower you can store upright in three simple steps. Not enough innovation yet? Our EXi engines deliver the easiest maintenance by never having to change the oil - just simply check the oil levels and add as you go. Our innovations help drive your business forward while giving your customers the ease of mind. 
*compared to a standard mower
---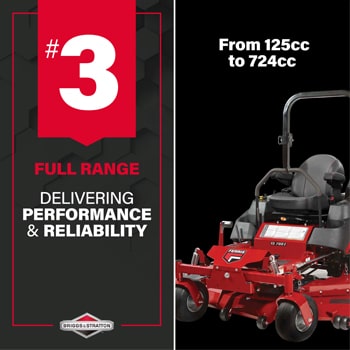 Full Range. 
Delivering Performance and Reliability. 
From lawn and garden machines, generators, pressure washers to water pumps and snow blowers. We have the right power for your application ranging from 125cc to 724cc whilst delivering performance and reliability. 
---
Online Support.
Stop surfing, start selling.
The shopping behaviour has changed dramatically in recent years. Buyers are conducting extensive research online before ever speaking to a sales person.  For this reason, it is more important than ever before to enrich your website with relevant quality content and to educate consumers while they search for the right product. Do not miss a sales opportunity! We have a whole host of digital marketing materials that help sell & keep sold available, completely free, to help you with your website.
---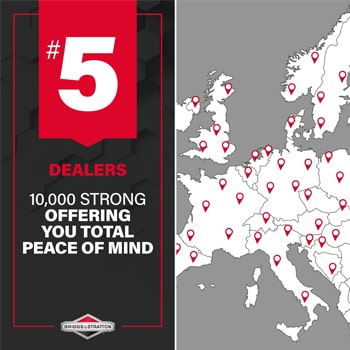 We have your customers' engines covered.
The best advice and service for your customers' needs.
Our brand has become synonymous with power, performance, reliability and endurance across the globe. Over one hundred million users operate power equipment powered by Briggs & Stratton engines. Our end users have come to count on reliable trouble-free performance every time they use the product. However, they can also feel secure in the knowledge that a comprehensive after sales and service network with over 10,000 dealers in Europe supports their engines. 
---