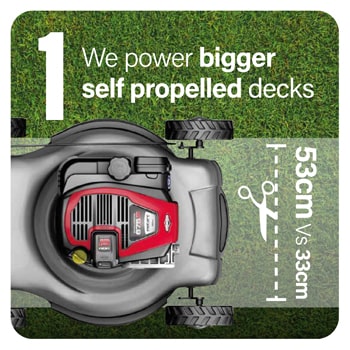 The right power for any sized mower.
No matter how big or small.
Use the power of a Briggs & Stratton engine to take the effort out of pushing your lawn mower. With a self propelled mower, the engine helps drive the wheels, making light work of uneven or large lawns. You can cut through thick grass without expending extra effort. Self-propelled mowers are available in single and variable speed models.
---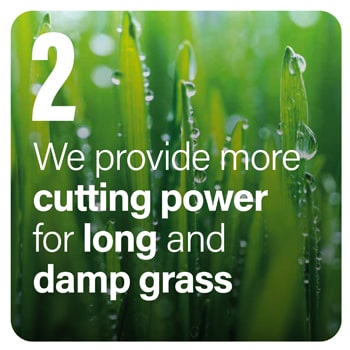 No hassles cutting long or damp grass - ever.
Tough. Reliable. Innovative.
With a Briggs & Stratton engine, you will always have enough power to cut through grass in any conditions, thick or wet grass don't stand a chance! With the power at your disposal the quality of cut is also second to none, leaving your lawn looking great.
---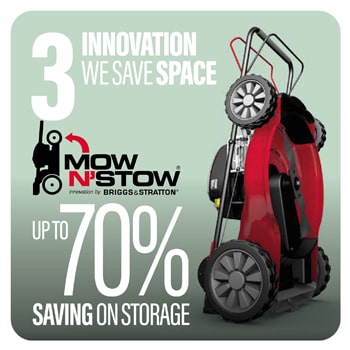 More storage room for more toys.
Breakthrough Mow N'Stow® engine technology.
Mow N'Stow allows the mower to be stored vertically, reducing the storage footprint needed by up to 70%, and provides easier access for you to clean the under-deck and service the blade. The Mow N'Stow engine technology features a no leak carburetor, a unique fuel tank design with new seals, gaskets and o-rings, and a high oil fill tube that allows the mower to be stored vertically. With a quick release handle, advanced engine design, and unrivalled blade access for superior cleaning, Mow N'Stow is a revolution in mower design. It fits those tight spots in your shed or garage, making more room for your favorite recreational or sports equipment. Play on!
---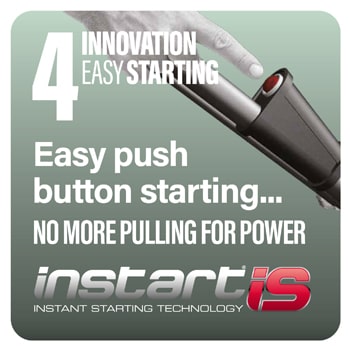 Start effortlessly, every time.
Skip pulling the rope and get right to work.
The iS Series InStart® system brings together the perfect combination of petrol powered cutting performance with the ease and dependability of lithium-ion battery technology, which is integrated directly into the engine itself. Delivering the ultimate in starting performance for you - no more pull cord. Starting at a touch!
---
Wherever you are - your engine is covered.
For the best advice and service you need.
Our brand has become synonymous with power, performance, reliability and endurance across the globe. Over one hundred million users operate power equipment powered by Briggs & Stratton® engines. Our end users have come to count on reliable trouble-free performance every time they use the product. However, they can also feel secure in the knowledge that a comprehensive after sales and service network supports their engines.
---