As a member of the Pressure Washer Manufacturers' Association (PWMA), Briggs & Stratton tests every power washer it designs through a third-party testing program to validate our claims of performance. The certification program provides consumers with reliable and verified performance data.
---
Why It's Important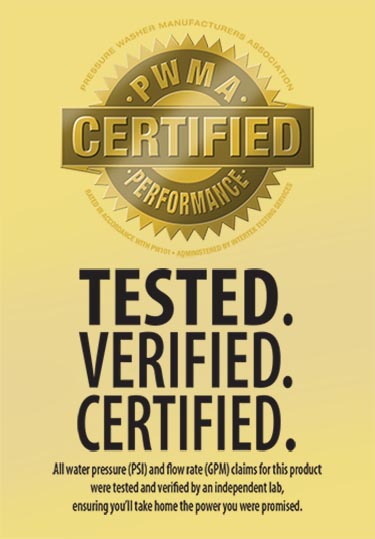 Pressure washer manufacturers state the pressure (PSI) and flow rate (GPM) ratings so consumers can understand performance in order to make the proper cleaning power selection for their needs. The advertised ratings for pressure washers are not always what you get; inconsistent methods of rating PSI/GPM across manufacturers can provide misleading information and potentially deliver much lower levels of performance than expected. 
In order to address this concern, the major manufacturers of pressure washers, including Briggs & Stratton, formed the PWMA and developed PW-101, Standard for Testing and Rating Performance of Pressure Washers: Determination of Pressure and Water Flow. PW-101 is the industry standard that provides a uniform method for testing and rating the primary performance characteristics of pressure washers that produce high pressure water.
PWMA members test their products in accordance with the standard so that consumers can compare pressure washer performance and have confidence in the advertised ratings of the products. The PWMA certification program ensures that the program participants adhere to the association's PSI and GPM standard. In order to obtain the certification, manufacturers must have their gas and electric pressure washers tested and verified by an independent third party.
When you're shopping for your next pressure washer, make sure you look for the PWMA label to ensure you take home the cleaning power you were promised. To learn more about the PWMA, its verification process and standards, visit www.pwma.org.