The ultimate outdoor cleaning tool. Faster, easier, more efficient cleaning. Give the outside of your home the same attention you give the inside. From light cleanup after gardening to blasting grime off the driveway – you're in control.
Pressure washers can be used for a variety of outside tasks such as cleaning backyard patios, decks, driveways, washing down patio furniture, vehicles and siding or prepping surfaces for painting.
A pressure washer is the perfect tool to rejuvenate and restore worn out or dirty items. The information below will help you learn about selecting and purchasing the pressure washer that's just right for you.
WHICH PRESSURE WASHER IS BEST FOR ME?
Gas or Electric?
Home Series Electric Pressure Washers are perfect for small, home cleaning projects like washing down your exterior entrance or sprucing up the patio. These units are compact, quiet, easy to maneuver and don't require gasoline or oil.
Home Series Gas Pressure Washers provide added power to take on the bigger tasks, such as cleaning hard-to-reach exteriors and driveway grime. They're powered exclusively with Briggs & Stratton® engines. Gain cleaning speed and durability as you move up to higher rated PSIs and GPMs.
From everyday clean up to serious, deep cleaning, we have a pressure washer that's just right for you.
WHERE TO BUY
Shop Briggs & Stratton pressure washers at your favorite retailers and dealers.
---
Light-Duty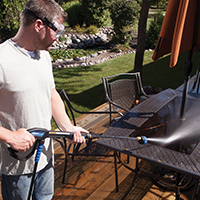 Our Home Series electric and gas pressure washers are perfect for light, easy cleaning of walkways, decks, patios, outdoor furniture and vehicles.
Medium-Duty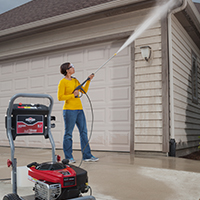 Step up to our Elite Series™ pressure washers. Save time on small projects – or take on bigger projects like driveways, siding and fences and get them done faster with extra power and rugged construction.
Heavy-Duty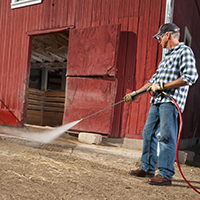 Our PRO Series™ commercial grade pressure washers are for the toughest tasks and long run times on any job site. Powerful engines and superior construction make these units the right choice for cleaning hard surfaces, paint chips, rust, graffiti and second story hard-to-reach places.
---
Buying a Pressure Washer
Choosing the right pressure washer that fits your needs is easy. Select the type that is right for you and then find a retailer or dealer near you.
Pressure Washers 101
Up to 75 times more powerful than a garden hose, a pressure washer generates high pressure – Pounds Per Square Inch – through a pump on the unit to spray water – Gallons Per Minute – through its hose and nozzle.
The result: Faster, easier outdoor cleaning.
In general, the higher the PSI and GPM, the faster you can clean. The heavier the duty level, the longer the product will last. Learn more pressure washer tips.
Storage and Maintenance Tips
Make sure your pressure washer is ready to run when you need it. Follow these simple maintenance and storage tips.
Safety First
Pressure washers are easy and safe to use when operated correctly. There are a few usage tips you should keep in mind. Find pressure washer safety tips.
Why Choose Briggs & Stratton?
Cleaning power from the pressure washer leader.
Providing the power and innovation you need – for the way you live, is what Briggs & Stratton is all about.
We've been a leader in the outdoor power equipment business for more than 100 years, and North America's largest pressure washer manufacturer for the last 10. From our legendary, easy starting engines, to our innovative products and features – choosing Briggs & Stratton as your power partner is the right choice.
And with over 17,000 authorized service centers in North America, that choice is supported long after the sale.