You're getting ready to buy your first pressure washer. You've got big cleaning jobs to do and you want it done faster, easier – and cleaner. Pressure washers can be used for a variety of outside tasks such as cleaning backyard patios, decks, driveways, washing down patio furniture, vehicles, siding or prepping surfaces for painting.
---
Pressure Washer 101
It's a tough world out there. Things get dirty, messy and stained. Sometimes a garden hose, soap and elbow grease just aren't enough for things to come clean. Enter the pressure washer.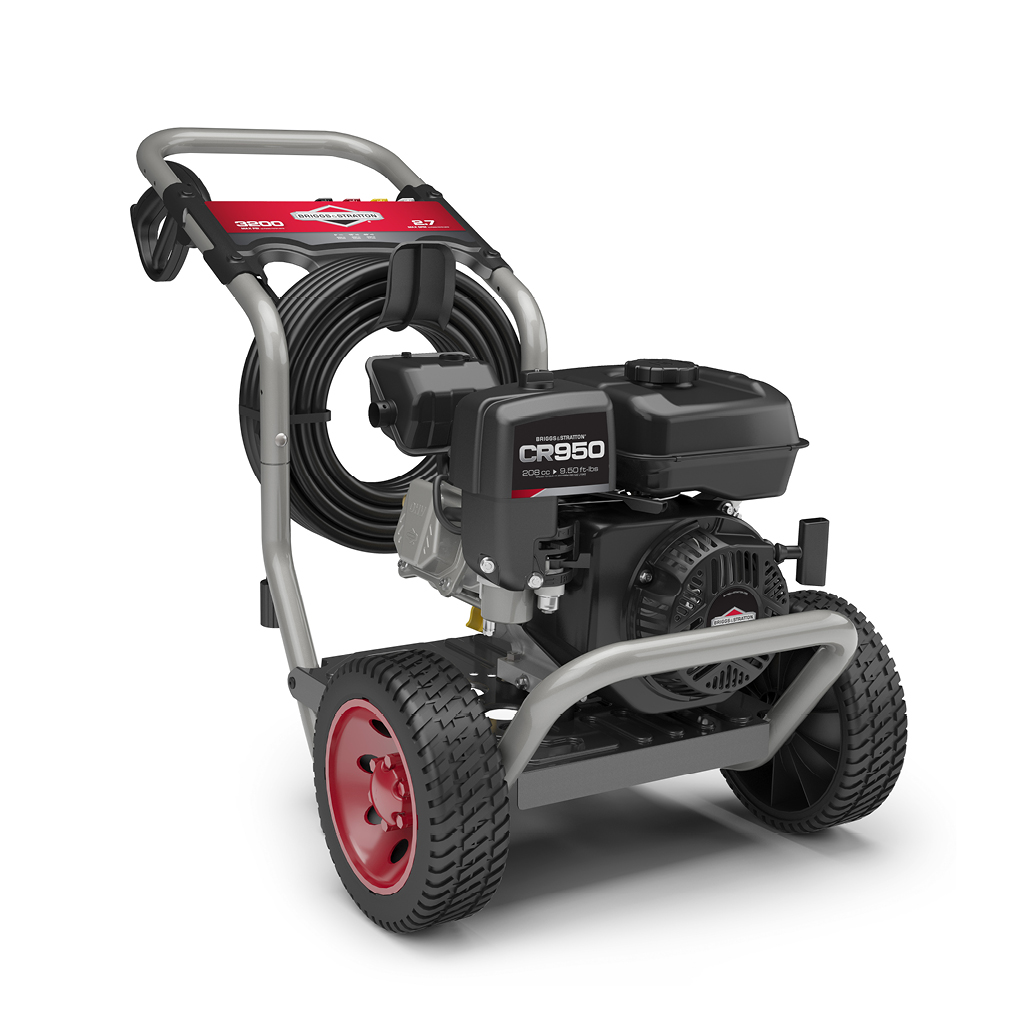 How They Work
Pressure washers are part garden hose and part air compressor. A typical pressure washer has either a gas-fueled engine or electrical powered motor that powers a water pump. The pump accelerates the water, supplied from a garden hose, to produce high pressure. The washer is hooked to a high pressure-rated hose. At the end of the hose is a water gun that looks similar to the pressure guns used at car washes. When the trigger is pulled, the water mixes with the air and comes out of the nozzle.
Pressure washers can aggressively blast things clean with water jets pressurized at about 75 times the pressure of a garden hose. Or, they can gently spray with lower pressures for delicate cleaning. Pressure washers are commonly rated by PSI* and GPM* ratings.
When choosing the best pressure washer for your needs, there are two general cleaning terms to understand. Overall cleaning performance is determined by how these work together. The higher the numbers, the faster you can clean.
PSI (Pounds per square inch): Water pressure measured at output, measured in pounds per square inch. It is what gives you the power to penetrate the dirt and grime.
GPM (Gallons per minute): Water flow delivered to the spray gun, measured in gallons per minute. It gives you the power to break down dirt and wash it away.
What's the Difference Between Gas and Electric Models?
Some light-duty pressure washers run off your home's electricity supply. These electric units are compact, quiet and easy to move around. More powerful, medium and heavy-duty models are powered by gas engines. Gas engine models are great if you're working outside in places where an electric supply is hard to find or where stringing extension cords together would be dangerous or inconvenient.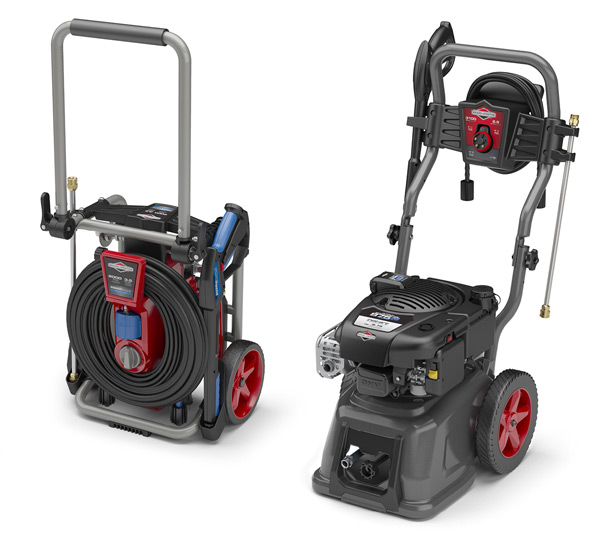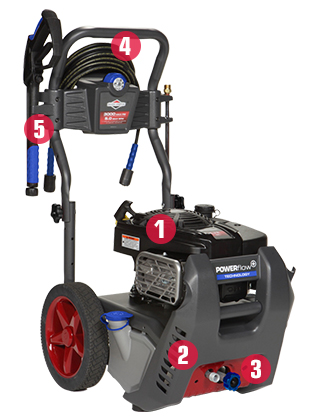 Pressure Washer Components
A typical pressure washer contains the following primary components assembled together onto a metal frame in a single unit:
Electric motor or gas engine

Water pump

Water inlet

High-pressure hose

Wand and nozzle attachments
---
Why Briggs & Stratton?
You want reliability, quality and innovation, Briggs & Stratton backs you with over 110 years of power expertise, from front yards to farm fields, all over the globe. We are not only the trusted, industry leader in pressure washers, we are the premier maker of small engines in the world – with a legacy and reputation unmatched by the competition.
---
PWMA Certified. Why it's important.
As a member of the Pressure Washer Manufacturers' Association (PWMA), Briggs & Stratton tests every pressure washer it designs through a third-party testing program to validate our claims of performance. The certification program provides consumers with reliable and verified performance data.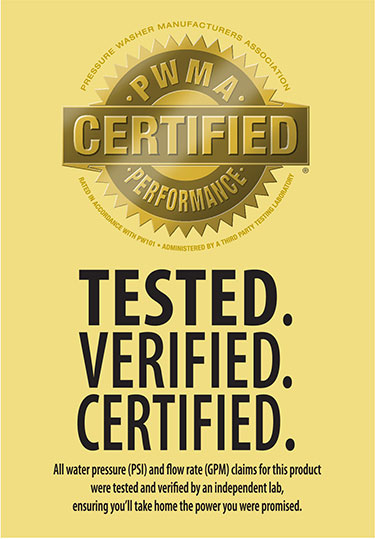 Pressure washer manufacturers state the pressure (PSI) and flow rate (GPM) ratings so consumers can understand performance in order to make the proper cleaning power selection for their needs. The advertised ratings for pressure washers are not always what you get; inconsistent methods of rating PSI/GPM across manufacturers can provide misleading information and potentially deliver much lower levels of performance than expected.
In order to address this concern, the major manufacturers of pressure washers, including Briggs & Stratton, formed the PWMA and developed PW-101, Standard for Testing and Rating Performance of Pressure Washers: Determination of Pressure and Water Flow. PW-101 is the industry standard that provides a uniform method for testing and rating the primary performance characteristics of pressure washers that produce high pressure water.
PWMA members test their products in accordance with the standard so that consumers can compare pressure washer performance and have confidence in the advertised ratings of the products. The PWMA certification program ensures that the program participants adhere to the association's PSI and GPM standard. In order to obtain the certification, manufacturers must have their gas and electric pressure washers tested and verified by an independent third party.
When you're shopping for your next pressure washer, make sure you look for the PWMA label to ensure you take home the cleaning power you were promised. To learn more about the PWMA, its verification process and standards, visit www.pwma.org.
---
Storage & Maintenance
Briggs & Stratton pressure washers are designed and manufactured to provide years of reliable use. However, like all powered products, there are several things you should do to make sure your pressure washer is ready to run when you need it.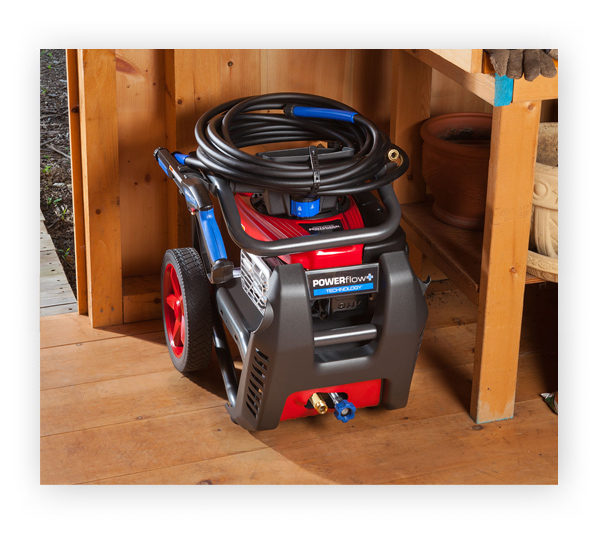 Short-Term Storage (2-3 weeks)
After each use, clean debris off unit. Store in a spot in your garage or outbuilding where you can easily get to it.
Long-Term Storage (2-3 months)
For longer-term storage, fill tank with fuel and add a fuel stabilizer in the tank.
If at all possible, store it inside where it will be dry, protected and easy to get to. Refer to your operator's manual for specific instructions.
Perform scheduled maintenance per your owner's manual. If you use and store your pressure washer in a cold climate, you can protect against pump freezing by adding Briggs & Stratton Pump Saver before you store your unit for the winter.
*Pressure washers are rated in accordance to the Pressure Washer Manufacturer Association (PWMA) standard PW101-2010 (Testing and Rating Performance of Pressure Washers).