Home Series Electric Pressure Washers
More efficient than a broom – more powerful than a garden hose
Our HOME SERIES Electric Light-Duty Pressure Washers are perfect for keeping the outside of your home as neat and tidy as the inside.
"I bought this pressure washer about 2 months ago and it is a superb. I do some off-roading in my 4x4 and when finished, this pressure washer strips all the mud and clay off in seconds. I would recommend this to anyone." - ian20970
Reach for a Briggs & Stratton electric pressure washer for smaller home clean up tasks such as washing down your exterior entrances and patios, or washing the car. Add more convenience with multi-purpose steam cleaner and easy-to-use air inflator accessories.
Home Series Gas Pressure Washers
Cleaning made easy
Our HOME SERIES Gas Light-Duty Pressure Washers step up the cleaning power and speed.
"I live in a new subdivision with sand, mud, etc. always on the paved street. I purchased my new Briggs & Stratton pressure washer and now, the driveway and street in front of my house look 100% better. The following weekend, the next door neighbor purchased a new Briggs & Stratton pressure washer." -jaf0940
A light-duty gas pressure washer will quickly become your go-to tool for home clean up tasks. They're powerful, versatile and easy to use. Perfect for walkway cleanups after gardening, spraying off dirty patio furniture or washing your car.
A selection of nozzles allows you to change the angle and force of the spray for faster, more versatile cleaning. And for deeper cleaning projects, adding a detergent to the water stream is an option. Plus, they're easy to hook up and use. Just attach to a garden hose.
The right choice for:
Cars, trucks and boats

Patio furniture

Sidewalks

Stairs

Fencing
Find Products at Retailers & Dealers >                                   View All Pressure Washers >

POWERflow + TechnologyTM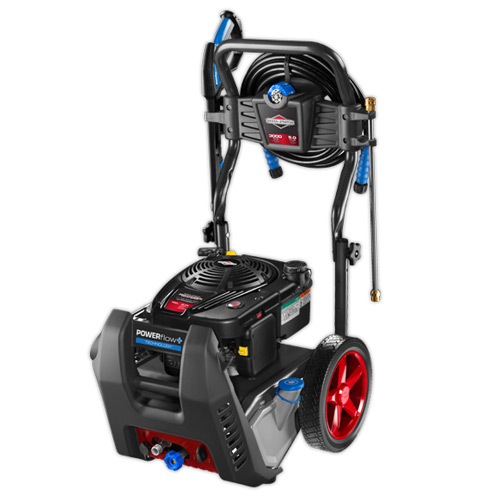 "The pressure washer has performed great so far. I just cleaned the siding on my 2-story house and the POWERflow+ feature had no problem reaching up to that height. I also cleaned my stamped concrete. It had great pressure and removed everything. This unit is easy to move around." - Boss
The only pressure washer available with high pressure and high flow modes.
The best of both worlds:
High Pressure for power-washing and deep cleaning.

High Flow for extended reach, power soaping, power rinsing and delicate surfaces.