Portable Backup Power From the Power Leader
Power that takes you where you want to go. When it comes to purchasing a portable generator, you look for trust, reliability, and the leading edge technology born of a commitment to innovation. You look for reputation. You want The Power Expert.
Dependability. Expertise. Innovation. Legacy. Briggs & Stratton brings all that to you and more, with over 108 years as a leader in the outdoor power business. We provide power solutions that improve lives at home and at work, across the country and around the world. With that commitment, you get generators that offer a premium combination of power, performance, durability and value, delivered by the #1 manufacturer of portable generators in North America for more than a decade.
Integrated Innovation. Synergized Power.
When you buy a Briggs & Stratton portable generator, you can feel confident that every part – from the alternator to the engine – has been engineered to work together. We don't just add an engine. We add the performance and reliability that only an integrated product delivers. The result: a cleaner, quieter and more efficient generator that you will rely on for years.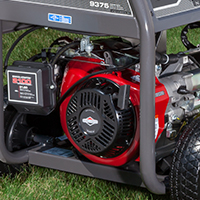 Simply the best engines. In the world.
Whether you're tackling a small project at home or up against the toughest task on a job site, you need the precise power and dependable performance that makes your work easier – and gives you the confidence to get it done.
You've got it with our legendary engines. Our continuous commitment to quality and innovation made us the world's largest producer of air-cooled gasoline engines – engines you can trust to start easily and perform reliably, every time.
Design and Innovation. Powered by you.
"Higher efficiency, lower emissions and less noise – you can expect all of this from any portable generator that bears the tag of Briggs & Stratton." -PlanetGenerators.com
You talk. We listen. You tell us the obstacles in your way to getting it done. What you need to solve the problem. Do the job. Power your world – with the confidence to achieve even more. We exist to put the power in your hands with engines and portable generators inspired by you. You drive us to design and build products that provide a better experience – with innovative features and rugged components that exceed your expectations.
We're everywhere you are. We've got your back with dedicated customer service – the largest support network in the world – and readily available parts and services from our thousands of dealers and retailers around the globe. View a dealer near you.
Today, we power everything from generator systems, lawn mowers and snow blowers to pressure washers and other outdoor power products. You'll find us in backyards, fields, farms, construction sites, businesses and homes around the globe. Always providing the highest level of reliability, durability, performance and innovation. Whether you're taking care of family, powering a jobsite, or just out for a good time, you can count on Briggs & Stratton as your trusted power expert.