Home Series Portable Generators
"Awesome little Generator. This Generator was a lifesaver after hurricane Sandy hit us on Staten Island. It gave me the power to power my home lights, TV and medical equipment." -Tony, NY
A storm comes in. Your power goes out. And your lifestyle goes down.
Severe weather like tornadoes, hurricanes, ice storms and blizzards can cause power outages that quickly disrupt your normal, daily life. With backup power from a Home Series Portable Generator, you can make sure your food doesn't spoil, your lights stay on, and you're still connected to the outside world.
Power to maintain your home's comfort and security – as well as your family's peace of mind.
In power outage situations, portable generators can provide critical backup power to the items and appliances you and your family rely on:
Lights

Refrigerators and freezers

Computers, tablets and cell phone chargers

TVs

Sump pumps

Furnaces and air conditioners

Home security systems
As easy as powering up and plugging in.
If your home's power suddenly goes out due to severe weather or a utility disruption, you can easily and quickly restore critical power with your portable generator.
---

Home Improvement Power
Elite Series™ Portable Generators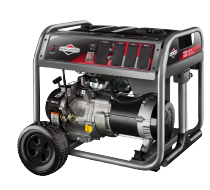 "I bought the B&S 7500 Elite Series after reading a very favorable review from Consumer Reports and have not been disappointed. The assembly of the Generator was simple and the operating instructions are easy to follow. I bought the generator just in time, as we lost power the next day for 3 hrs. The generator performed perfectly." -Pags1223
Power for added conveniences.
Briggs & Stratton Elite Series™ Portable Generators can provide all the backup power you need. Featuring heavy-duty frames and a powerful OHV engines.
Take the power outside your home.
Sometimes you just can't move the project closer to a power source. An Elite Series™ Portable Generator makes it easy to move the power to the project. Just plug in your power tool of choice to get the job done fast and efficiently.
You will no longer need to string a long line of extension cords out of your back door to plug in saws, drills or any other electric powered equipment. These portable generators have the power and endurance to give your home backup power, or let you go out back and get some work done.
Saws

Drills

Shop vac

Lights

Compressors
If connecting a generator into your home electrical system, have a licensed electrician install an Emergency Manual Power Transfer System.