InStart®: Easiest Starting Ever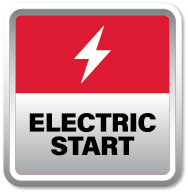 Tired of pulling a rope to get your lawn mower engine started? Our InStart technology means no more pulling the cord to start mowing: just push the button or turn the key for instant starting! With the latest lithium-ion battery technology, InStart provides the ultimate in starting performance. The lithium-ion battery lasts up to 3x longer than lead acid batteries. Thanks to the rapid charging, you can fully charge the battery in one hour, delivering more than 75 starts - enough for an entire mowing season. Do you need to mow your lawn right away and does your battery turn out to be empty? In only 10 minutes charge time, the battery provides up to 20 starts.
---
What are the main benefits for you? ---
InStart® technology is available as two systems.
The award winning InStart starting system naturally incorporates the heritage attributes of power, performance and reliability, but adds the easiest starting ever seen on a lawnmower. Our standard iS InStart engines come with a removable lithium-ion battery. This ensures flexible charging - just remove the battery from the engine and charge it anywhere you like with the InStart charger. A full charge will give you more than 75 starts*.
If you prefer integrated starting our Integrated InStart system is the perfect fit for you. The system features the latest in lithium-ion battery technology, which is integrated directly into the engine itself. Just plug it in your closest socket to charge. The integrated lithium-ion battery can last a season on one full charge*.
*Based on average consumer usage.
---
These engines provide you with InStart®
---
---
Why you should choose Briggs & Stratton

---
Easy features you can rely on