How To Tune Up Your Lawn Mower
---
---
Whether you're a steadfast do-it-yourselfer, or want to start saving time and money by becoming one, completing a lawn mower tune up is a great place to start. In just four steps, and spending only about a half hour, you can get your mower ready for cutting season. Here's how:
Tune Up in Four Easy Steps

Step 1: Change the air filter. Briggs & Stratton engines use one of three types of air filters: foam, paper and a combination of foam and paper. Click on the type of filter you have for how-to's on making the switch.


Step 3: Change the spark plug. Changing your spark plug is one of the easiest ways to promote easy starting for your lawn mower. To enjoy this perk and avoid stalled-start frustration, replace the spark plug every season. Spark plugs are pre-gapped, so all you need to do is remove the old spark plug and replace it with the new one. Our simple-to-use maintenance kits all include the spark plug specially engineered for your engine to maintain super performance.

Step 4: Protect your engine against against gum and varnish build up in the fuel system. Gas goes stale in as little as 30 days. Add STA-BIL® 360° Protection™ every time you fill your gas can to prevent fuel related engine problems and get your mowing season off to a great start. STA-BIL fuel additives are the official fuel treatments of all Briggs & Stratton® engines.
---
Small Engine Tune Up Schedule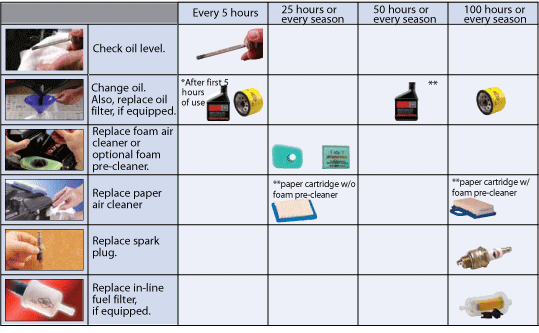 Here are some helpful resources to help you maintain your specific outdoor power equipment:
*Change oil after 5 hours, then after every 50 hours or every season.
**Service more often under dusty, heavy-load operating conditions.
---
Related Maintenance Videos
---
Shop Related Maintenance Parts
---
TROUBLESHOOTING FAQS
View solutions for handling the most common engine and product troubleshooting and maintenance questions.
VIDEOS
Learn about the latest products by Briggs & Stratton, step-by-step instructions on how to locate your lawn mower engine model number and more!