How to Replace a Paper Air Filter
---
---
A Briggs & Stratton genuine paper air filter element will provide 1.5 times the life of imitation filters. Our air filters have:
Superior filtration media

Extended service intervals

Superior sealing materials
How to Replace a Paper Air Filter
Your Paper Air Filter should be replaced every 3 months or after 25 hours of use.
How To Change A Paper Filter Cartridge: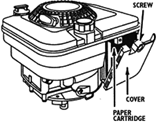 Loosen cover screw.

Tilt cover down.

Carefully remove and discard paper cartridge.

Install new cartridge with paper pleat out.

Close cover.

Tighten screw securely.
How It Works:
A paper air filter element works by causing any air that is intended to enter the combustion chamber of the engine to pass through a filtering device made with microscopic holes in it. The paper element traps the dirt particles on the outside of the element.
TROUBLESHOOTING FAQS
View solutions for handling the most common engine and product troubleshooting and maintenance questions.
VIDEOS
Learn about the latest products by Briggs & Stratton, step-by-step instructions on how to locate your lawn mower engine model number and more!