How To Maximize Garage Storage Space
---
---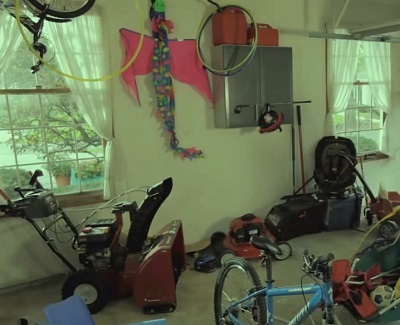 Spring cleaning is a great opportunity to get rid of all the clutter in your garage. It's easy during the winter to use your garage as a catch-all storage space for anything that doesn't fit in the house, but when spring comes you realize you're running out of room!
This spring, take back your garage space. If one of the things that you've found taking up room in your garage is your lawn mower, you'll be excited to know that the days of bulky lawn mowers are coming to an end. Briggs & Stratton has developed a revolutionary small engine innovation that will give you back the garage space you've been missing.
Check out our tips to learn how to maximize garage storage space not just this spring, but forever, with the exciting new space-saving, folding lawn mower with a Briggs & Stratton Mow 'N' Stow™ engine.
Spring Cleaning: Garage Storage & Organization Ideas
Get Equipped: Before you start thinking about what to do with your outdoor power equipment, spend a Saturday cleaning out your garage. If your garage is particularly dirty or filled with debris, make sure you have plenty of large garbage bags and cleaning supplies handy as you start clearing out your garage space.
Donate unused stuff: Make a pile of things that are still in good enough to shape to give away – toys your children no longer play with, duplicate tools – and bring them to your local donation center or church accepting donations. Throw away anything that's too broken, old, or used to refurbish or donate.
Try These Garage Organization Ideas: Organize loose tools, nails, and small items into storage containers so they are not haphazardly stored and taking up garage space. You can hammer some nails up on available walls to hang tools so they're easily accessible yet out of the way.
One of the best ways to maximize garage space is consolidating everything you use into storage containers that are easily stackable or easy to mount on walls so that everything you need is still around but taking up far less space. Trying some creative garage organization ideas may even clear enough space to the car that's been stranded in the driveway all winter.
Keep Safety in Mind: Don't forget to be smart about where you are placing various tools, storage containers, and other items like hoses – always be vigilant about the location of electrical outlets, faucets, pipes, and heaters to avoid fire hazards or damage to your items.
Ditch Outdated Outdoor Power Equipment
The biggest thing in your garage taking up space, besides your car of course, is likely a lawn mower. Have you been trucking along with your old lawn mower for years? It takes up too much space and doesn't work as well as it used to but you can't justify getting rid of it. Well, now you can.
Depending on the condition your old lawn mower is in, you can try to sell, donate, or recycle it. Talk to your local Briggs & Stratton dealer about what they suggest. There may be engine repair shops that can fix up your machine for others or to deconstruct for engine education. Whatever you decide to do with your old machine, we encourage you to dispose of your lawn mower in an environmentally responsible way.
Once you get rid of your old lawn mower, not only can you buy the new Toro lawn mower with the Briggs & Stratton Mow 'N' Stow engine, you'll still have garage space left over that your old machine used to take up.
Mow 'N' Stow folds to store upright – giving you 70% of your garage space back. And with your freshly clean garage, you'll be absolutely amazed at how spacious and new your garage will feel. Enjoy your newfound garage space and your exciting new lawn mower!
TROUBLESHOOTING FAQS
View solutions for handling the most common engine and product troubleshooting and maintenance questions.
VIDEOS
Learn about the latest products by Briggs & Stratton, step-by-step instructions on how to locate your lawn mower engine model number and more!