Take on the task. Tuck it away.
---
---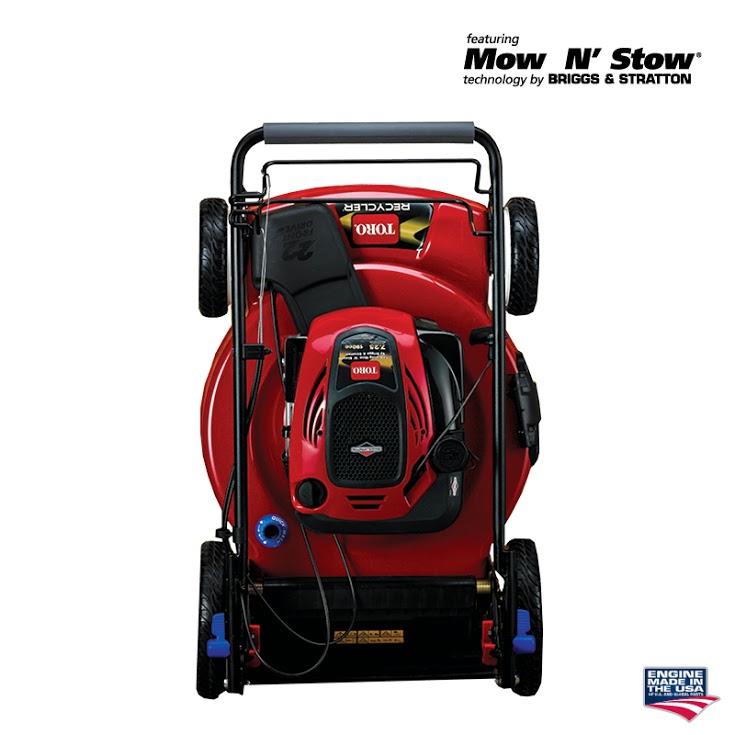 Conquer garage space.
You won't let a lack of storage space in your garage or shed stop you from keeping your yard in shape.  So we designed the groundbreaking Mow N' Stow ® Engine. You get the ultimate space-saving solution: a gas-powered lawn mower you can store upright– in three simple steps. That's a 70% reduced footprint leaving room for more equipment and more toys.
A patented lawn mower engine design with unique fuel tank design means no fuel or oil leaks

Easy under deck cleaning and blade access

7.25 ft-lbs of gross torque to cut through tall, thick grass

Engine made in the USA and global parts

Mow N' Stow® Lawn Mower Engine Technology: Briggs & Stratton Demo
Flippin' Sausages
Lawn Mower Storage Made Easy with Briggs & Stratton's Mow N' Stow®
Briggs & Stratton Folding Lawn Mower Engine: How the Technology Works

Mow N' Stow® Engines available exclusively on Toro lawn mowers on homedepot.com 
IN THE NEWS
Briggs & Stratton is making the news! Read about innovative engines, products, and things we are doing to make people's lives easier.
*All power levels are stated gross torque at 2600 rpm per SAE J1940 as rated by Briggs & Stratton.