5 Must-Have Briggs Parts for Spring Mower Maintenance
---
---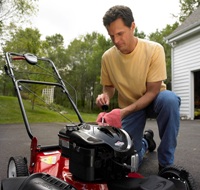 When spring rolls around, it's time to say goodbye to your snow blower for a while and bring out your lawn mower. If you're ahead of the game, you knew to winterize your lawn mower for storage so it would be all set to go when it was time to start mowing again. Either way, your machine will still need a bit of a tune-up to tackle this season at peak performance. Check out our top 5, must-have Briggs parts for spring mower maintenance – and get ready to have a great mowing season with your lawn mower!
Small Engine Parts You'll Need for Lawn Mower Tune-up
The following Briggs & Stratton® engine parts are recommended to be changed every 25 hours or every season. Visit our small engine maintenance schedule for a full rundown of the recommended service schedule.
Briggs & Stratton® Engine Tune-Up Kits
A Briggs engine tune-up kit is a fast and easy way to get your lawn mower engine in great shape. Not only can it save you money and prevent expensive repairs, it increases your engine performance and reduces emissions. Briggs engine tune-up kits come with easy step-by-step instructions so you can do it yourself, and all kits include an air filter, spark plug, oil and fuel stabilizer designed for your Briggs & Stratton lawn mower engine.
Lawn Mower Air Filters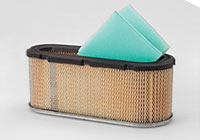 Air filters are key to keeping your lawn mower engine running right, because they prevent dirt and debris from getting into the engine. Available in foam, paper, and dual element options, it's always good to start a new mowing season with a new air filter. Find the right air filter for your Briggs lawn mower and get ready to have a nice clean engine.
Small Engine Fuel Treatment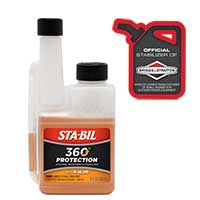 Using an ethanol treatment with fuel stabilizer helps protect your lawn mower engine from corrosion caused by moisture in today's ethanol blended fuels and keeps fuel fresh for more than 30 days. Add STA-BIL® 360° Protection™ every time you fill your gas can to prevent fuel related engine problems and get your mowing season off to a great start.
Note: STA-BIL fuel additives are the official fuel treatments of all Briggs & Stratton® engines.
Lawn Mower Oil, Oil Drain Valve & Small Engine Oil Filters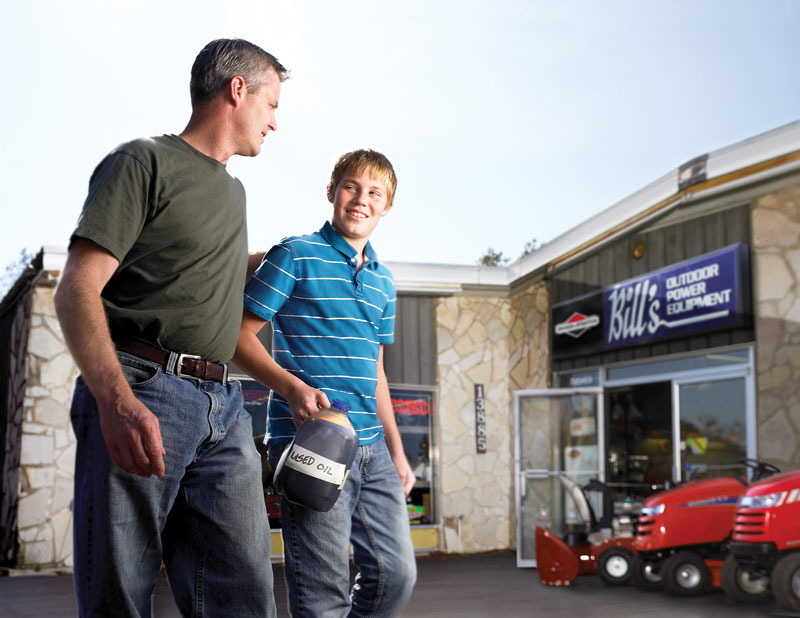 If you have a Briggs & Stratton lawn mower engine, you probably know that oil is crucial to keeping your machine running smoothly. But when was the last time you got new oil and related parts such as the oil drain valve and oil filters for your engine?
You don't want to be mowing when your lawn mower runs out of oil or let old oil cause engine problems. Set yourself up for mowing success with fresh mower oil and accessories.
Briggs & Stratton also provides easy options for recycling lawn mower oil. Simply, drain old oil into a sealed container and drop it off at a participating Briggs & Stratton dealer.
Lawn Mower Spark Plugs
Spring is a great time to stock up on Briggs parts like spark plugs for your lawn mower maintenance. A spark plug is necessary to your engine, but have you replaced it recently? A fouled spark plug can prevent your lawn mower from starting. Also, be sure to check that your gas cap is attaching properly as it is needed to ensure safe, efficient operation of your unit. This final tune-up tip will help your lawn mower engine start quickly after its winter hibernation.
More Mower Maintenance & Repair Resources
If you're having some trouble getting your lawn mower going again after the winter, check out our top 5 mower troubleshooting tips. Talk to your local Briggs & Stratton dealer about lawn mower maintenance and which Briggs parts are best for your spring mower tune-up – and get ready for a great mowing season!
---
Shop Related Maintenance Parts
---
TROUBLESHOOTING FAQS
View solutions for handling the most common engine and product troubleshooting and maintenance questions.
VIDEOS
Learn about the latest products by Briggs & Stratton, step-by-step instructions on how to locate your lawn mower engine model number and more!