Safety Tips: Be Careful Out There
According to the US Consumer Product Safety Commission, more than 60,000 injuries are treated by hospital emergency rooms each year because of unsafe operation of power lawn mowers. Kids under the age of 15 are the most common victims. Regardless of which mower you choose, don't forget to practice safety. We've assembled some guidelines below to help keep you safe while using your equipment:
Always wear protective eyewear

Mow only in daylight, when the grass is dry

Check your yard for any debris or objects, such as toys that could pose a hazard if you mowed over them

Keep children and pets away from the mowing area

Never let the starter rope snap back when starting a mower

Look three to four feet directly ahead of you while mowing

Never tilt a mower; always keep all four wheels on ground

Take special care when mowing hills and inclines

With your push mower, always mow across an incline or hill

Always turn off mower when crossing a sidewalk or driveway

Never adjust mower height, clean grass chute, remove grass catcher or repair the mower while the engine's running

Never de-activate safety devices

Never pull mower towards you

Always stay clear of a hot engine, mufflers can reach up to 1,200˚F

Always read your Operator's Manual thoroughly before operating the mower

Children under 12 should not operate a push mower
---
Quick Tips for Mower Maintenance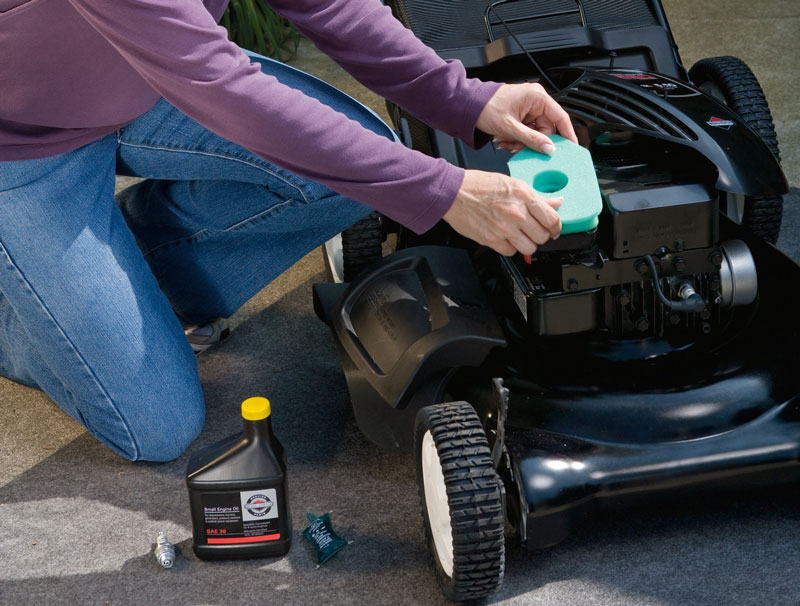 Be sure you are getting the most of your lawn mower engine. Proper maintenance can help your engine run in top shape for longer and extend the overall life of your small engine. The following engine tips should help you keep your power equipment in better condition and save you money on costly lawn mower repairs.
Monitoring Lawn Mower Oil
NOTICE: ENGINE MAY BE SHIPPED WITHOUT OIL. Check oil level before starting engine. See "Oil Recommendations" in operator's manual for type of oil to use and checking/filling instructions. Do not overfill.
Use Clean, Fresh, Unleaded Gasoline
Do Not Use E-58 Gasoline
This engine is NOT designed to operate on E-85. Using E-85 may result in costly engine repairs and void the engine warranty.
Lawn Mower Storage
To prevent starting or performance problems, transport and store lawn mowers with the engine in its normal operating position. Refer to Engine Operating Manual for complete transporting and servicing guidelines.
For additional mower maintenance tips and help on repairs be sure to check out our FAQ pages, Maintenance How-To pages, and Support Videos.