---
---
InStart®: InStant Starting Technology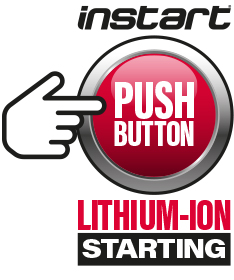 Tired of pulling a rope to get your lawn mower engine started? Our InStart technology means no more pulling the cord to start mowing: just push the button or turn the key for instant starting! With the latest lithium-ion battery technology, InStart provides the ultimate in starting performance. With only one charge, the battery gives you easy starting throughout the entire mow season!
InStart is the perfect combination of two worlds. The engine delivers the power and performance of a petrol engine, while the InStart technology gives you the easy battery starting of an electric mower. No more pulling the cord and no electric cable limiting your flexibility.
The lithium-ion battery lasts up to 3x longer than lead acid batteries. Thanks to the rapid charging, you can fully charge the battery in one hour, delivering more than 75 starts. Do you need to mow your lawn right away and does your battery turn out to be empty? In only 10 minutes charge time, the battery provides up to 20 starts.
Start effortlessly and mow wherever you want, every time. Easiest starting lawn mower ever!