How To Locate Your Push Mower Engine Model Number
---
Step 1: Confirm Correct Model Number
Does your model number look like the image below? The first 10-characters (i.e., model and type) stamped on your engine will look like this:

Please Note: If the model & type numbers on your Briggs & Stratton engine are only 9 characters, please enter a 0 (zero) at the beginning of the model number.
Does the number you have look like this? If not, locate the correct number by following instructions in Step 2.
Step 2: Locate the Model Number
The engine model number is generally a number stamped into metal directly on your engine.
Some push mower engines come with a cover or "shroud". It should be noted that these covers come in a variety of colors, sizes and shapes. Regardless of your cover, the engine model number will be in one of 3 locations: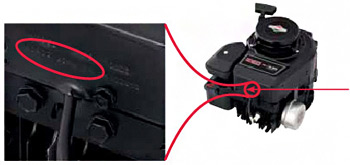 Above the spark plug
Tools you may need:
Flashlight
1/4" or 5/16" socket or screwdriver
---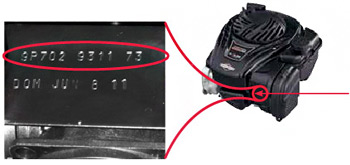 On the front of engine
Stamped on metal plate in between the overhead valve cover (OHV) and the air filter.
---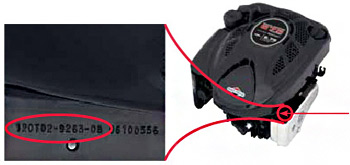 Above the muffler
Stamped on the sheet metal above the muffler, which can be on the right or left side of the engine.
---
Step 3: Search Again