The Importance of Fuel Stabilizer
---
---
One of the easiest ways to maintain your snow blower or lawn mower engine for seasons to come is by using fuel stabilizer. Whether putting your lawn mower or snow blower away at the end of the season or letting some time pass between uses, curbing your fuel's degradation is crucial. Read on for tips to keep your engine running right.
Choosing the Right Fuel Type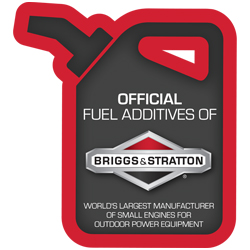 Unsure of what gas to put in your in your Briggs & Stratton engine? Use clean, fresh gasoline with a minimum octane rating of 87— the same gasoline you put in your car —and stabilize it throughout the season. This alone will ensure your lawn mower, snow blower, chainsaw, and string trimmer start quickly and run efficiently whenever you need it. While ethanol and flex fuel may be great, eco-friendly options for your car, avoid using it in your Briggs & Stratton engine. In particular, grade E15 fuel attracts moisture that separates from the ethanol. When this happens, a layer of water and alcohol is created at the bottom of your fuel tank that can severely damage you engine and will void your warranty.
Storing Your Outdoor Power Equipment
To protect your fuel tank from corrosion, store your lawn mower or snow blower filled with treated fuel. Gas begins to degrade in as little as 30 days which can lead to your engine's fuel system clogging and your equipment not starting the following season. Using fuel stabilizer eliminates the need to drain fuel prior to storage by keeping fuel fresh for up to 24 months, and ensures quick easy starts next season by preventing gum and vanish build-up within your engine's fuel system. Keeping the tank full will minimize accumulation of moisture that causes carburetor-clogging rust. Briggs & Stratton's fuel stabilizer (sometimes called fuel preserver) keeps fuel fresh for up to 3 years. Add the stabilizer according to package directions and then run the engine for a few minutes to circulate the solution through the carburetor.
TROUBLESHOOTING FAQS
View solutions for handling the most common engine and product troubleshooting and maintenance questions.
VIDEOS
Learn about the latest products by Briggs & Stratton, step-by-step instructions on how to locate your lawn mower engine model number and more!