Portable Generator on the Job Site
---
---
Whether it's repairs and renovations around the house or everyday duties on site, you'll need the right tools for the job. Whatever the project you have planned, we can help you get prepared.
Finding the Correct Wattage Generator
If you're planning a construction project you'll need to make sure you are using the correct wattage generator for the task.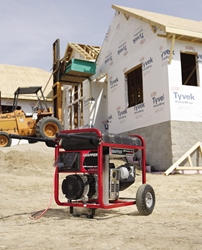 Staying Safe on the Job
Whatever the task, it is important to stay safe when working with power equipment. Here are some basic tips to staying safe on the job site:
The Right Tool for the Job - Maintain all hand tools and equipment in a safe condition and check them regularly for defects. 
Using Power Properly - Use double insulated tools, or ensure that power tools are grounded well.
Basic Handling - Raise or lower power tools by their handles, never by their cords.
Extension Cords - Use the shortest extension cord possible. Longer the cord, the less amperage delivered, meaning less power to the motor.
TROUBLESHOOTING FAQS
View solutions for handling the most common engine and product troubleshooting and maintenance questions.
VIDEOS
Learn about the latest products by Briggs & Stratton, step-by-step instructions on how to locate your lawn mower engine model number and more!