Oil - Lifeblood of Your Engine
---
---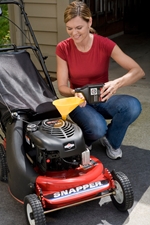 Engine oil is something many homeowners overlook when it comes to their outdoor power equipment. But it is very important to check the oil in your equipment and add the right kind of oil when you need it.
Here are the basic rules when it comes to oil:
If you just bought a new mower or other piece of equipment, add oil before you start the engine. These products are shipped without oil. Even if the product is delivered to your home fully assembled, check to be sure the engine contains the right amount of oil.

Check the oil in your mower, pressure washer, portable generator or other outdoor power equipment each time you use it. Do this when the engine is cool. If the equipment has a dip stick, pull it out and wipe it off, then reinsert it all the way and pull it out again to check the oil level.

You should change the engine oil in your outdoor power equipment after 25 hours of use. If you are working under dusty, hot conditions, change the oil more frequently.

Don't overfill the crankcase when adding oil. Too much oil can damage the engine.

Briggs & Stratton offers oil specially formulated for your mower and other equipment. Our 100% synthetic oil is an all-season oil blended for all small engines. Briggs & Stratton Lawn Mower Oil is formulated for 4-cycle air-cooled engines, and 2-Cycle Ashless Oil is a premium ashless oil with gas stabilizer made for use in 2-cycle air-cooled engines.
TROUBLESHOOTING FAQS
View solutions for handling the most common engine and product troubleshooting and maintenance questions.
VIDEOS
Learn about the latest products by Briggs & Stratton, step-by-step instructions on how to locate your lawn mower engine model number and more!