Lawn Mower Safety Tips
---
---
Mowing a lawn: You and all of your neighbors do it every weekend of the summer, right? Operating a lawn mower, however, requires preparation and careful consideration of safety issues. According to the US Consumer Product Safety Commission, more than 60,000 injuries are treated by hospital emergency rooms each year because of unsafe operation of power lawn mowers. Don't become a statistic and read on to safely mow your lawn and get your yard looking its best.
Lawn Mower Maintenance
Regular maintenance is important for Briggs & Stratton powered lawn mower running for a lot time and keeping you safe. To prevent overheating and fires, carefully clean debris and grass clippings from the cutting unit, muffler, and small engine. For small engine maintenance products, check out the Briggs & Stratton parts and accessories online store.
Keep Track of the Kids
Lawn mower safety is of the utmost importance when kids are out and about. Children should never ride as passengers on riding mowers or be towed behind. Be aware of where kids are and keep them clear of the work area.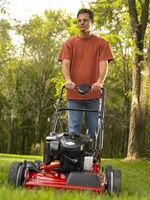 Wear the Correct Attire to Mow
Believe it or not, there is a right and wrong thing to wear when doing your yard work! One should don safety glasses or wraparound sunglasses, long pants, and sturdy, close-toed shoes.
Survey Your Yard
Lawn mower blades can pick up and throw small objects like twigs, woodchips, and rocks, as well as small toys. Exercise caution while on hills or near drop offs, and when approaching corners or anything that might obstruct your view.

Want to learn more about lawn mower safety? Read the manual that came with you mower.
TROUBLESHOOTING FAQS
View solutions for handling the most common engine and product troubleshooting and maintenance questions.
VIDEOS
Learn about the latest products by Briggs & Stratton, step-by-step instructions on how to locate your lawn mower engine model number and more!