Fuel Filter Installation Instructions
---
---
Fuel Filter Installation Instructions
For Service Part No. 394358S / DIY Part No. 5098
Fits most Briggs & Stratton engines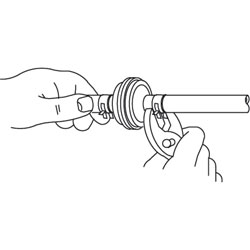 1. Run engine until it stops from lack of fuel. Wait until engine cools before performing any maintenance. 
2. Using standard pliers, squeeze tabs on hose clamps and slide them away from hose ends. 
3. Remove fuel line from both ends of the fuel filter. 
4. Install new fuel filter in reverse order 
5. Upon first use, check for leaks!
WARNING 
• If fuel is leaking: Stop engine, and re-secure hose and clamp. 
Consult with an Authorized Service Dealer for assistance, if required.
See operating manual for fuel filter maintenance information.
---
---
TROUBLESHOOTING FAQS
View solutions for handling the most common engine and product troubleshooting and maintenance questions.
VIDEOS
Learn about the latest products by Briggs & Stratton, step-by-step instructions on how to locate your lawn mower engine model number and more!