Fuel Additives That Work
---
---
Maintain Your Lawn Mower With a Gas Additive
One of the easiest ways to maintain your lawn mower for seasons to come is by using a good quality fuel treatment like STA-BIL®. It's the official gas additive of all Briggs & Stratton® engines.
Fuel begins to degrade in as little as 30 days. Treating your fuel prevents corrosion and the gumming and varnishing of your engine's fuel system.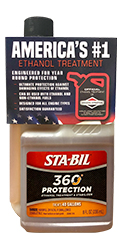 To protect your engine from corrosion, add 360 Protection every time you fill your gas can with fresh, clean gas.  It prevents the harmful effects associated with ethanol blended fuels which account for nearly 90 percent of all fuel sold in the U.S. Ethanol-blended gas is especially prone to deterioration, leading to rust in the fuel tank, corrosion, gum build-up, and even severe engine damage. This is reflected in poor overall engine performance, rough running and hard starts.
For use in-season, when using your equipment regularly

Prevents corrosion caused by today's ethanol-blended fuel

Stabilizes fuel up to 12 months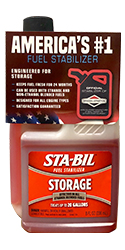 Whether you're storing your equipment at the end of the season or letting some time pass between uses, curbing your fuel's degradation and protecting your engine is crucial. Be sure to add STA-BIL storage to clean, fresh fuel before adding it in your engine's fuel tank.
For use when storing equipment or in limited use equipment that have dormant periods

Prevents carburetor gumming and varnishing  eliminating the need to drain fuel prior to storage

Stabilizes fuel for long-term storage up to 24 months
Add STA-BIL ethanol treatment and fuel stabilizer according to package directions and then run the engine for a few minutes to circulate the solution through the carburetor.
TROUBLESHOOTING FAQS
View solutions for handling the most common engine and product troubleshooting and maintenance questions.
VIDEOS
Learn about the latest products by Briggs & Stratton, step-by-step instructions on how to locate your lawn mower engine model number and more!