Choosing Spark Plugs
---
---
Choosing Spark Plugs
It's important to choose the right spark plug for your engine, especially for consistent, easy starting. We recommend that you change your spark plug every 100 hours or every season, whichever comes first.
Replacing your spark plug:
Ensures consistent spark




More reliable starting




Improves fuel economy
You can learn more about the Briggs & Stratton Platinum Plug below, or refer to your operator's manual for more specific information based on your engine.
Briggs & Stratton Platinum Plug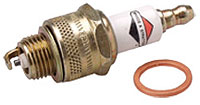 The Long Life Platinum Spark Plug is better because it's specially designed for easy starts and long lasting performance in outdoor power equipment powered by today's 4-cycle engines.
Exclusive technology offers these premium quality features:
Exclusive Platinum Pad on the Center Electrode. Longer lasting, withstands higher temperatures, reduces gap erosion. 




New Electrode Design. Smaller diameter, tapered center electrode, and copper cored and tapered ground electrode increase ignitability for easy starts, smoother riding, and quicker accelerations under all conditions. 




New Projected Core Nose. Specially designed to broaden heat range and provide peak performance without fouling. 




Triple Coated Fold Shell. Exclusive gold shell with TinTac coating reduces corrosion and seizing in heads, providing easy removal. 




SAC 9 Resistor Element. Suppresses electrical noise interference. 
Not sure how to replace the spark plug, read our Servicing the Spark Plug FAQ.
TROUBLESHOOTING FAQS
View solutions for handling the most common engine and product troubleshooting and maintenance questions.
VIDEOS
Learn about the latest products by Briggs & Stratton, step-by-step instructions on how to locate your lawn mower engine model number and more!