Choosing a Pressure Washer
---
---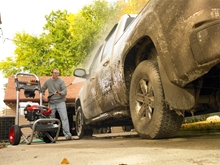 A pressure washer lets you clean a variety of things faster, better and easier. Pressure washers remove built-up mold, mildew, dirt and grime to restore surfaces to like-new condition,
Gas vs. Electric
Don't just get it wet. Get it clean with a gas-powered pressure washer. Gas pressure washers are more powerful than electric pressure washers so they can get the job done more efficiently.
Cleaning Power is Key
The cleaning power of a pressure washer is determined by two criteria: the water pressure (PSI) it produces and the water flow (GPM) through the washer. The combination of PSI and GPM determines a pressure washer's cleaning power (CP). CP offers a better indication of a machine's overall performance, and is useful when comparing pressure washers. To calculate CP, multiply a pressure washer's maximum PSI rating by its GPM flow (CP = PSI X GPM).
PSI, or "pounds per square inch," refers to how much force a pressure washer is capable of producing to propel the water stream at the cleaning surface. For example, a pump spray bottle has high water force, but low water flow.
GPM, or "gallons per minute," identifies the amount of water a pressure washer uses to clear dirt and grime from the cleaning surface. An unrestricted garden hose illustrates the idea of high water flow and low water force.
Durability
When selecting a pressure washer, make sure to consider how often you plan to use it. If you plan to use your pressure washer frequently/daily, consider a model with an OHV engine and a commercial grade triplex pump for added performance and reliability.
Nozzles
There are three main types of pressure washer nozzles. Adjustable spray nozzles allow for an easy change of the spray pattern from pinpoint to wide fan spray. Quick connect spray tips have predefined spray patterns for precise control. The Briggs & Stratton ProjectPro™ nozzle system is a unique set of nozzles with preset pressure and flow settings for different projects.
Cleaning Systems
Pressure washers equipped with a detergent injection system automatically siphon and mix cleaning detergents into the water stream for even more effective cleaning. For added convenience, some models come with onboard detergent storage tanks.
TROUBLESHOOTING FAQS
View solutions for handling the most common engine and product troubleshooting and maintenance questions.
VIDEOS
Learn about the latest products by Briggs & Stratton, step-by-step instructions on how to locate your lawn mower engine model number and more!