Carburetor Repair, Maintenance & Adjustment How-To Guide
---
---
Your Briggs and Stratton carburetor is an integral part of your small engine, so it's important to keep it running smoothly for the overall health of your lawn mower, snow blower, and other outdoor power equipment. In this article, we'll give you tips on carburetor maintenance and repair to keep your small engine healthy – so that you can use your power equipment worry-free!
Before starting any carburetor maintenance or repair work, make sure to consult the Briggs & Stratton operator's manual for the machine you will be working on and follow all safety precautions.
Carburetor Maintenance: Cleaning & Adjusting Small Engine Carburetors
Performing regular carburetor maintenance is a great way to save yourself money, headaches, and hassle down the road.
Most carburetor problems are caused by a variety of blockages from things like dirt, varnish, and gasoline deposits. It's easy for the main fuel jet to become blocked, but luckily it's a pretty easy fix. Regular carburetor maintenance will help you avoid problems in the future.
You can clean the main fuel jet (located in your carburetor's fuel bowl nut) with carburetor cleaner and compressed air to blow out loosened debris. Carburetor cleaner dissolves deposits in your carburetor and choke, and consequently can reduce your need for maintenance, repair, and downtime, while improve starting for all 2-cycle and 4-cycle engines.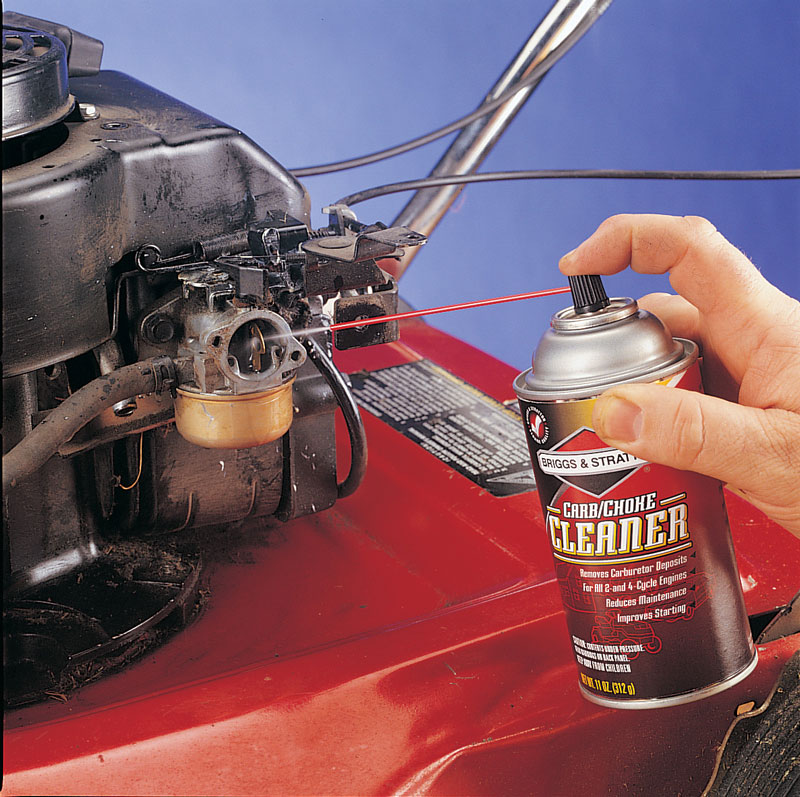 After cleaning the carburetor, another key step for some float-type carburetors is adjusting the idle speed and mixture. Carburetor adjustments can only be made on older, non-EPA regulated carburetors and are generally as follows:
The high-speed (or needle valve)-if equipped-should be turned 1-1/2 turns open from the seat; the idle valve should be turned 1-1/4 turns open from the seat.
Carburetors are now manufactured per EPA emission standards and are not adjustable, they are factory set. First and foremost, don't tamper or attempt to modify engines designed to meet EPA standards. Not only is it illegal and comes with civil penalties, but it can cause a host of problems. Knowingly disabling an emission control system component will violate the EPA regulations. Installing a part that differs from that originally on an engine that meets EPA standards also may bring penalties for tampering.
Normal maintenance (replacing air filters and spark plugs) and routine servicing such as rebuilding carburetors or replacing jets for high altitude operation are still perfectly acceptable. Full instructions for Overhauling a Briggs and Stratton Carburetor are available in our FAQ section.
Briggs & Stratton engine tune--up kits contain new air filters, spark plugs, oil, and easy step-by-step instructions. You can find engine tune-up kits in the Briggs & Stratton official parts store online.
Troubleshooting Carburetor Problems in Your Lawn Mower or Small Engine
Sometimes, if your carburetor is gummed up beyond simple maintenance, it may be necessary to rebuild or overhaul it. You can find detailed carburetor repair instructions in our "Overhauling the Carburetor" FAQ article. Carburetor problems are often at the root of many issues with outdoor power equipment. By performing carburetor repair with official Briggs and Stratton parts and cleaner, you can help ensure that your small engine is healthy and running right.
If you have any questions about performing carburetor repair on your small engine, official Briggs and Stratton dealers are here to help. Your local Briggs and Stratton dealer can assist with any small engine repair and maintenance issues you may have. Performing regular carburetor maintenance will save you trouble down the road, so make sure you don't neglect it - and then you can get back to enjoying using your Briggs & Stratton outdoor power equipment!
---
Shop Related Maintenance Parts
---
TROUBLESHOOTING FAQS
View solutions for handling the most common engine and product troubleshooting and maintenance questions.
VIDEOS
Learn about the latest products by Briggs & Stratton, step-by-step instructions on how to locate your lawn mower engine model number and more!