Spruce Up Your Outdoor Spaces
---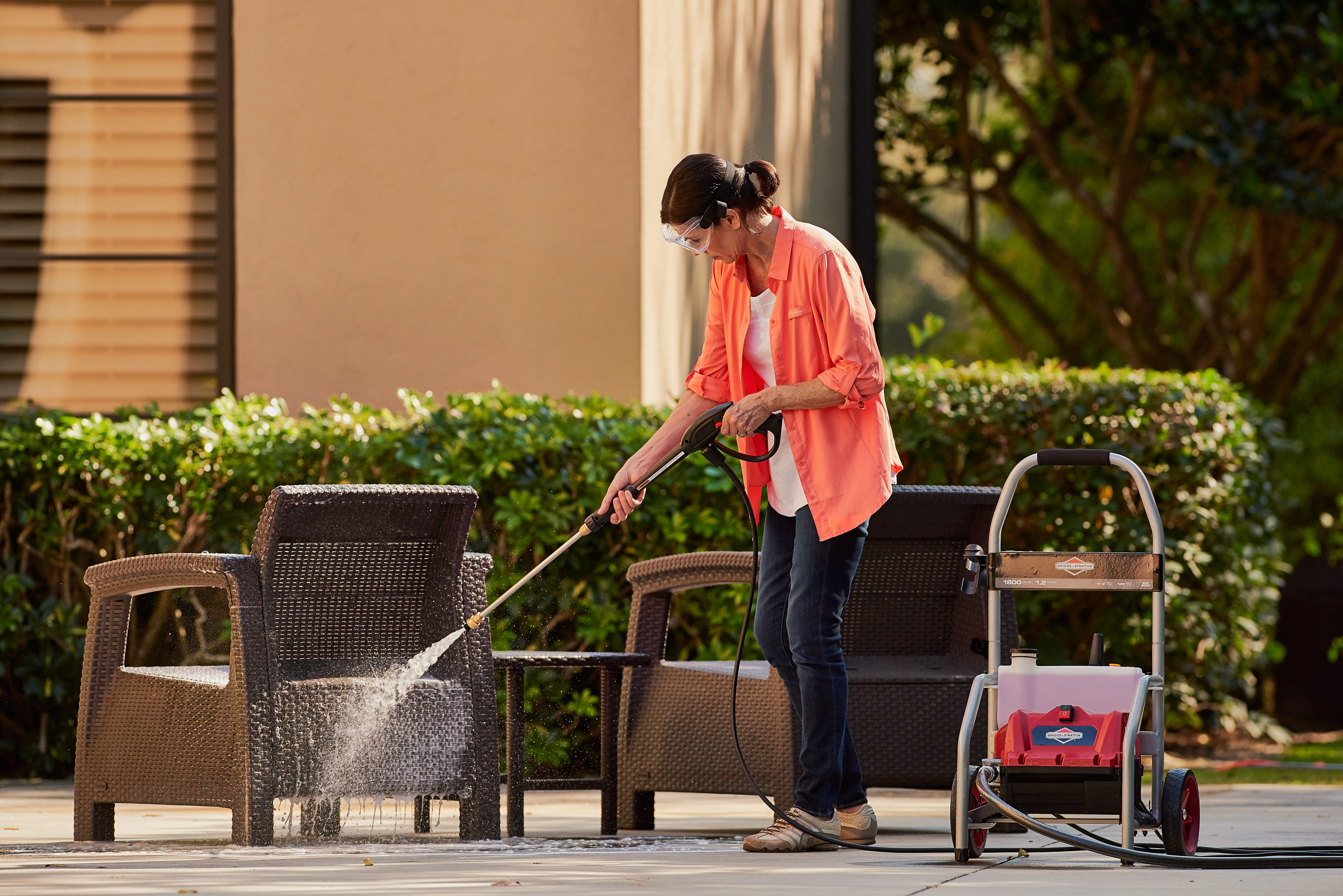 Over time, the appearance and function of any outdoor space can dull due to combinations of heat, precipitation, use and other factors. With some careful attention, you can quickly spruce up your outdoor living areas and get them back in great working order – and Briggs & Stratton can help.
Blast Away Grime
A careful sweeping with a sturdy broom is a good starting point, but to get your outdoor space truly clean you may need a little more muscle.
A pressure washer is a great solution for a wide range of surfaces, including patios, decks, sidewalks and even siding, windows, screens and tables when used with the appropriate settings.
A washer that allows you to both wash and rinse makes the job easy, like Briggs & Stratton's line of electric pressure washers which offer a variety of maximum pressure and flow rates to fit homeowners' unique outdoor cleaning needs. For example, the S1800 electric pressure washer's unique turbo nozzle gives you the ability to blast away grime up to 40 percent faster, while the onboard detergent tank, instant start/stop system and welded-steel frame make for ultimate durability, convenience and versatility. Use the limited-time* coupon code 15POWERWASH at checkout on Amazon.com to receive 15% off your purchase of a Briggs & Stratton S1800 electric pressure washer.
To get started, turn on the washer and begin with a rinse setting to loosen dirt and debris. Next, apply detergent with a lower pressure setting. You may want to let the detergent sit for especially grimy areas, depending on the detergent's directions for use. Rinse thoroughly and repeat the process if needed.
Take Care of Textiles
Outdoor textiles often take a beating from the elements. Freshen up often-overlooked things like outdoor rugs, lawn furniture cushions, pillows and umbrellas. A thorough vacuuming may be adequate to remove leaves, bugs or dirt. However, if stubborn spots persist and a deeper cleaning is needed, review the manufacturers guidelines. Washing covered furniture from time to time helps ensure it's ready for use no matter the season.
Declare Dust Off-Limits
Dingy light fixtures and fans lend an air of disrepair in any space. Outdoors, they'll undoubtedly collect dust and dirt quickly, but a deep clean can help make them easier to maintain. Dust and scrub as needed, and if necessary, grab a scrub brush and some soapy water to brighten up other items like decorative pieces and flower pots.
Freshen Up Finishes
From furniture to hard surfaces, the finishes can take a beating. Take time to bring these items back to their former glory by rinsing, scrubbing and brushing dirt away from your wrought iron, metal, aluminum and wicker furniture. If necessary, apply a fresh coat of sealant or add a rust-preventive layer of new paint. The same applies for other surfaces with finishes that may be chipped and dull.
Briggs & Stratton is ready to help you power your way to an enjoyable outdoor living season. Find additional cleaning solutions and outdoor power equipment products on the Amazon Briggs & Stratton store.
*One discount coupon per customer. Offer good until 11:59:59PM PDT on June 30, 2018, or when the redemption budget exceeds $10,000, whichever comes first.