When Tim Theiss hit retirement age, he and his wife knew it was time to make a move. They were ready to downsize from the home they had raised their family in and be closer to their oldest daughter and four grandchildren.
As a Houston resident, Theiss knows first hand the volatility that Gulf Coast hurricane season can bring. When Hurricane Ike battered the Texas coast in 2008, his family went without power for two weeks. A portable generator kept air conditioning and some appliances running, says Theiss, but it wasn't without challenges — like finding gas to keep the unit running. His retirement home needed something more reliable.
"I'm a little older and not willing to put up with the hassles of the portable generator anymore. I went ahead and looked into purchasing a whole home generator," Theiss says.
Finding Backup Power
The first place Theiss shopped was a generator superstore. He quickly realized the sales associates were trying to oversell him by pushing larger units with higher prices. Not pleased, Theiss continued his search. He came across Power Now, LLC, a Houston-area Briggs & Stratton diamond distributor in Cypress, Texas.
John Taggart, the owner of Power Now, came to Theiss' house to assess his home and needs. He told Theiss a 10kW or 12kW generator would be a good fit for the size of the house and offered competitive prices. Theiss weighed the options and compared the two sizes. Though his home would have been set up well with the 10kW unit, Theiss opted for the 12kW one.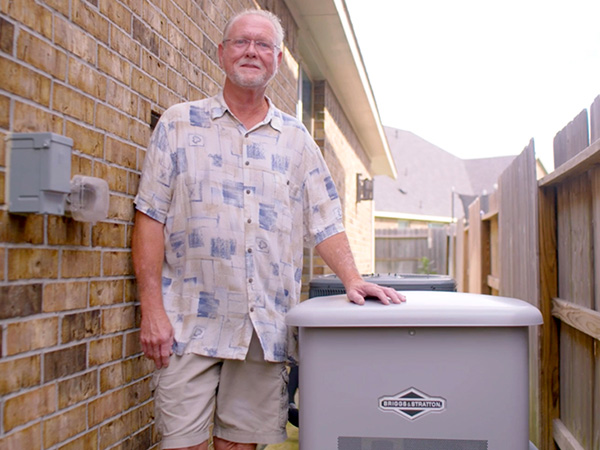 "When I did the comparisons, I just felt like the 12kW size fit my use," he says. "The reliability of the Vanguard engine definitely struck me as really important, and the gas consumption. I think it fit my needs better, and I believe it was more efficient than what the generator superstore was trying to sell."
Theiss let Taggart know that he'd chosen the 12kW option and the Power Now team came out to install it. The installation team walked Theiss through information on the engine, how to test it, and how often to do so.
An Unexpected First Test
When Theiss first decided to purchase a standby generator, he had in mind the memory of sweating through the Texas heat in the aftermath of Hurricane Ike. But his new generator would soon be put to the test by a very different kind of weather event.
In 2021, Texas experienced some of the worst winter conditions in its history. When a snowstorm hit, Theiss' power went down and much of the state was paralyzed by ice. His oldest daughter also lost power and soon her pipes began to freeze. Theiss was able to provide his daughter and grandchildren a warm place to stay and drinking water thanks to the Briggs and Stratton generator.
"We were actually able to help not only ourselves, but our extended family to weather through the storm," says Theiss.
That isn't the only time the generator has been put to the test since its installation: Theiss and his wife have had power through several non-weather related outages — including an incident when a car accident knocked out power to his entire neighborhood.
"I didn't have to worry about it because the generator came on and everything was fine," he says.
Value Added
It's been less than a year since the Power Now team installed the generator and Theiss is already confident that he's gotten a return on his investment: "I know for a fact that if we had to sell the home, it would help with the sale and is an added value that is worth something to people."
Quite a few neighbors in Theiss' area have purchased whole home generators since then, and Theiss likes to think he played a part in that. After all, it's hard not to notice when you're the only house on the block with power.
"Frankly, I've been a pretty high promoter of the generators, so I think I brought in a little business too," says Theiss.
Theiss says he plans to have Power Now visit to service the generator at least once a year to make sure it stays in peak condition. With confidence in his Briggs & Stratton unit, he can now retire comfortably knowing that he will always have power without hassle.
---
Ready to start protecting your home?
A home standby generator provides security, comfrot, and confidence that your family's life will continue uninterrupted when a power outage occurs.