When John Thrasher and his wife decided to build a home in Sunset, South Carolina, they were looking to create a place where they could get away from their home in Ohio, to unplug and relax in the foothills of the Appalachian mountains.
In order to truly relax, John knew they would need to be prepared for the extreme weather that South Carolina can experience during hurricane season. For him, that meant setting the house up with a whole home generator.
Investing in standby power
Being from the Midwest, John was familiar with all sorts of weather and the havoc storms can reap. He wanted to be prepared for whatever came his way in his new South Carolina home.
"I knew when I built another home that I was going to have a generator, because I don't want to be without power," said Thrasher.
Living in Ohio half the time and South Carolina the other, John found it essential to have a solution that would take care of his home while he was away in case of a power outage.
"We have three refrigerators stocked with food in the South Carolina home," said Thrasher. "I didn't want to get to a point where, if we're not down there for a month and the power happens to go out, we walk into the home with refrigerators full of spoiled food."
John talked to his builder about purchasing and installing a standby generator. They discussed a few different options, but when the builder mentioned Briggs & Stratton, John didn't hesitate to agree with him. His confidence came from having positive previous exposure to the brand.
"I've interacted with a lot of Briggs & Stratton motors over the years," said Thrasher. "Not necessarily generators, but just the brand itself."
Based on his own personal interactions, he knew that a Briggs & Stratton home generator was a solid choice.
"My father always said a Briggs & Stratton engine is the best engine you can have," said Thrasher. "So, I've always looked at Briggs & Stratton as the gold standard."
A past in portables
John had used portable generators in the past. But, since portable generators need to run outside due to exhaust fumes, it wasn't an ideal for Ohio winter weather. Between going outside in below freezing temperatures to get it running and only being able to power a few different items, it was almost more of a hassle than a solution.
"I used a portable generator in Ohio several times," said Thrasher. "One time, we had power out for two days in the coldest winter. I knew I had the generator, but starting it up and then figuring out how to plug it in, with different appliances in the middle of the winter, when it's 15 below zero and the wind is blowing. Plus the fact that it ran off of gasoline, I was running back and forth to the gas station, pouring gas into it."
After that troubling situation, John knew he wanted a more permanent option. He wanted a generator that would run off of propane or natural gas, and one that had an automatic transfer switch so he wouldn't have to go outside in the middle of inclement weather.
"I wanted it to be as worry free and as trouble free as possible when the power goes out," said Thrasher.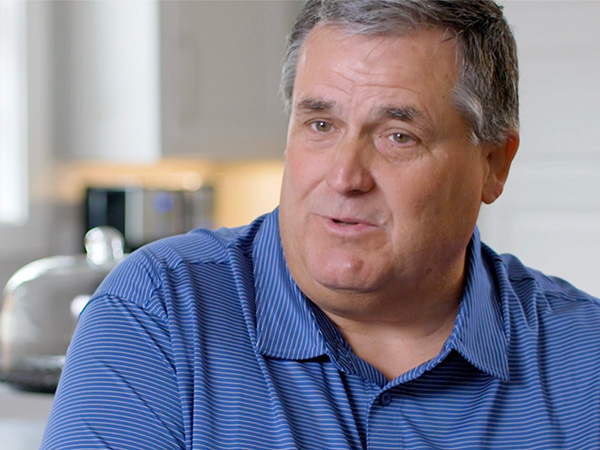 "My father always said a Briggs & Stratton engine is the best engine you can have ... I've always looked at Briggs & Stratton as the gold standard."
Weathering the storm
The standby generator became useful sooner than anticipated. Last fall, in late October, John and his wife were on their way to Sunset knowing that some storms were headed their way. After a hurricane had hit near the South Carolina coastline, they were concerned about beating the heavy wind and rain that was making its way inland, not even thinking about power outages.
Arriving just in time, John and his wife woke up the next morning to 70 and 80 mile per hour winds. They received a note from their neighbor saying the power was out throughout their entire development. Looking at his wife, John said, "Well, at least the power isn't out here." Shortly after, the power went down at their home, and the generator kicked in immediately. Everything in their house came back on, while the storm blew for another couple hours. Having power the entire time, John thought that the power lines would be back up in a few hours at most, but that wasn't the case.
"Because so many trees got knocked down, it also knocked out many power lines," said Thrasher. "We were on the generator with power for three and a half days."
An unexpected amount of time, but to them it was like nothing happened. They were living out their lives as normal.
"My wife and I both looked at each other and I said, 'If the power never goes out again, this generator has been worth every penny,'" said Thrasher.
Keeping the backup power on
Since that storm, John has had a few neighbors ask him about the generator. John recommended a Briggs & Stratton generator with certainty. He's already considering another one for his home in Ohio.
"That three and a half day event made me a total believer in making sure I had backup," said Thrasher. "We're now looking at a Briggs & Stratton generator for our house in Ohio."
Another feature Thrasher really enjoys is the cell phone application. He can easily monitor what is going on down in South Carolina while he is back home in Ohio.
"The fact that it has the ability to communicate wirelessly through the app, for me that's important," said Thrasher. "Especially being away, I want to know when the generator comes on and when it goes off."
No longer does John have to deal with the inconvenience of being outside in the midst of a storm to power up his portable generator, nor does he worry about his second home from 8 hours away. Through advanced technology and confidence in his Briggs & Stratton home generator, John can remain certain that his food won't go bad and his home will be ready with power, whenever it's needed.
---
Ready to start protecting your home?
Our Whole-House Generator Sizing Calculator allows you to select what you want to power in your home and directs you to the appropriate-sized generator system.