New Line of Global Single Cylinder Horizontal Shaft Engines
---
---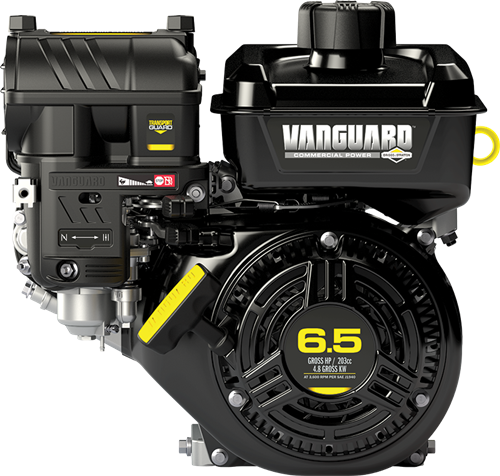 A new line of single-cylinder horizontal shaft commercial gasoline engines has been released by Briggs & Stratton's Vanguard brand developed around key areas of performance critical to improving productivity, including starting, maintenance intervals, service and support, and total cost of ownership.
The new line will span from 5 to 13 gross horsepower to meet power requirements.
"For decades, manufacturers have been modifying old designs.
We asked people what they wanted and needed out of a single-cylinder engine before we even started designing this platform," Jim Cross, Marketing Manager, Briggs & Stratton Commercial Power said.

"We interviewed hundreds of stakeholders including rental houses, end users and dealers worldwide to better understand the issues they face; the need for improved starting, reduced maintenance, less noise and vibration, and better service and support.
Then, we engineered a superior product that outperforms the competition.
"The ground-up design process allowed Vanguard to engineer all-new carburetion, ignition and combustion systems to promote reliable starting. To ensure four-season starting, the engine is designed to start at temperatures as low as -20 degrees Fahrenheit. All surfaces inside the carburettor that contact fuel feature a special corrosion and stale fuel resistant plating.
The new line of engines also includes an advanced version of TransportGuard, Vanguard's single ignition and fuel shutoff designed to prevent oil dilution during transport. The lever now incorporates throttle control, expanding application and repower capabilities.
Additionally, the engine's dimensions and bolt configuration make it a drop-in solution for equipment powered by other engine manufacturers," Jim said.
To reduce maintenance and downtime, the engine has an oil management system allowing the engine to run up to 200 hours between oil changes, Jim said.
"An advanced fully-cyclonic air filtration system lessens downtime by extending recommended air filter replacement intervals to 600 hours. This system is standard on the new Vanguard single-cylinder horizontal shaft engines.
"Vanguard also engineered the engine's main components to lessen the impact of vibration on performance and engine and equipment wear and enhance operator comfort. To improve engine noise, acoustic engineers emphasized reducing decibel levels and the perceived harshness of the engine's sound."