BE PREPARED FOR CYCLONE SEASON WITH RELIABLE BACK-UP POWER
Australians living in northern parts of the country are being urged to commence preparations for what is expected to be a more active tropical cyclone season. With December nearly upon us, the Bureau of Meteorology has warned residents to expect an average to above-average tropical cyclone season, particularly in light of last year's low number of tropical cyclones, so access to back-up power is top of mind for those in rural and remote areas of the Northern Territory and Queensland.
According to the bureau, history indicates that an average season sees about 11 cyclones in the tropical cyclone season from November 1 to April 30, with about four of these expected to make landfall. While last year had the lowest number of tropical cyclones on record, itis expected this Australian cyclone season will not be as quiet.
Lighting, high winds and heavy rainfall can cause damage to power grids, leaving residents without the means to power everyday items like fridges, lights and stoves. If outages stretch out to long periods of time, it can leave people severely disadvantaged, so it's important to consider back-up power options and be prepared for any storm scenario.
Briggs & Stratton, one of the world's leading producers of portable generators, provides some advice for preparing for the upcoming cyclone season.
---
Preparing for Cyclone Season
1. Have an emergency plan and make sure this is up-to-date. Be prepared with emergency contact details, including that of the SES, and ensure the entire family knows what to do if a storm was to hit.
2. Prepare the house. At the start of storm season, it's time to make some adjustments to your property, such as trimming nearby trees, clearing downpipes and gutters, and securing any outdoor or garden furniture. Check the roof is in good condition and properly protect glass windows or skylights, which can be major hazards during a storm.
3. Get back-up. Lightening, rainfall and heavy winds can knock out power and it's not uncommon to experience long outages during a storm. Be prepared with a back-up generator to ensure a reliable source of power so your day-to-day is not significantly impacted. Remember –never operate a portable generator indoors or in enclosed spaces and ensure that the exhaust is pointed away from occupied spaces, windows and doors when in use.
4. Store valuables in plastic bags to keep them from getting damaged and have them all in the one place to ensure easy access in a hurry.
5. Review home and contents insurance. Understanding what is and isn't covered will keep you from any nasty surprises should this be needed.
6. Weather can change quickly, so be sure to listen for daily updates and announcements in your area.
Briggs & Stratton Portable Generators
Briggs & Stratton's Power Responder and Elite portable generators are designed to provide a safe, reliable solution to access power in remote locations. Featuring Briggs &Stratton's petrol-powered engines, water resistant outlets and easy manoeuvrability, these generators provide a reliable source of power to keep daily life going once a storm has hit.
Power Responder
Designed to provide power when it's needed, the Power Responder portable generator is powered by the Briggs & Stratton 2100 series OHV™ engine. It features two IP44 16A water resistant outlets, low oil shutdown protection and 13 hours of run time, at50 per cent load. It includes a two-year limited warranty*and wheel kit.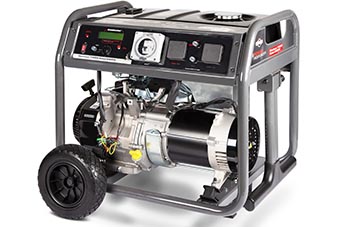 Elite 9500/7000
The Elite 9500/7000 generator is designed to provide a safe, reliable source of power in remote locations. Featuring the Briggs & Stratton 2100 series OHV™ Electric start engine, twoIP66 water resistant outlets and wheels that will never go flat, the generator offers total peace of mind in any situation. The Elite generator range is available with three power options†–Elite 9500/7000, Elite 3500/3000 and Elite 6500/5300.