As a longstanding leader in power, Briggs & Stratton is using its expertise and resources to engineer innovative products to meet the growing demand for backup power solutions. Before hitting the market, these cutting-edge solutions are put through a variety of rigorous tests to ensure they can withstand the harsh elements that come with extreme weather.
Performance in Extreme Conditions
While backup power can benefit all, standby generators are especially useful in areas with extreme weather like hurricanes and wildfires that can cause more frequent power outages. In addition to more frequent extreme weather events, weather patterns are also becoming more intense, with hurricanes commonly reaching winds up to 175 miles per hour. Briggs & Stratton Standby Generators have been designed to ensure optimal performance in harsh conditions, so they are able to withstand major wind, heat and rain.
North America is also experiencing heavier rainfalls over shorter periods of time, making flooding more common. Briggs & Stratton PowerProtect™ Generators have built-in water resistance that has been engineered and tested to prevent water from entering the generator, even in heavy rainfall. The top of Briggs & Stratton Generators have an acoustic and thermal insulation sheet installed to help prevent rain and dust from seeping in through the roof area. There are also seals on the sides and end cap panels to protect the generator components and ensure water can't reach the engine compartment.
Rolling brownouts and aging power grids are other causes of power outages that frequently deprive millions of electrical power. Extensive durability testing helps ensure that Briggs & Stratton Generators are prepared to power homes for extended periods of time during these energy outages.
Expert Home Generator Testing
To ensure PowerProtect Generators are up to the weather challenges mentioned above, the engineering experts at Briggs & Stratton conduct rigorous testing for performance and durability. Key performance factors like water resistance, engine operations and durability are continuously monitored while subjected to the harshest conditions. Cold-start and thermo-heat testing is used to measure engine operation in extreme temperatures, resulting in a quality generator with peak starting and performance in even the worst climate conditions.
Each home generator has to go through the UL2200 Section 66.1 rain test. While the unit is running, each face of the enclosure is sprayed with water for an hour. After each phase of testing, panels are removed from the generator and water intrusion is evaluated. This testing is specific to water on electrical components, so there must be absolutely no water present on any electrical components in order to pass. When the electrical elements stay dry, the life of the unit is extended and customers can rest assured it will start when they need it most.
Quiet, dependable backup power when it's needed most
Briggs & Stratton designs its standby generators with ease of ownership in mind. The state-of-the-art noise, vibration and harshness lab measures hundreds of data points for varying sound factors on every PowerProtect model. A team of engineers and generator experts use the lab to develop innovations, such as low idle mode, that help make generators quieter when running.
One of the most significant advancements in generator engineering is the shortened weekly test cycle featured on the PowerProtect lineup. Each week the generator automatically conducts its own test that only lasts 16 seconds, which is four minutes shorter than its competitors' average test. This weekly test cycle is more efficient; validating reliability for peace of mind and causing fewer disruptions for the customer.
---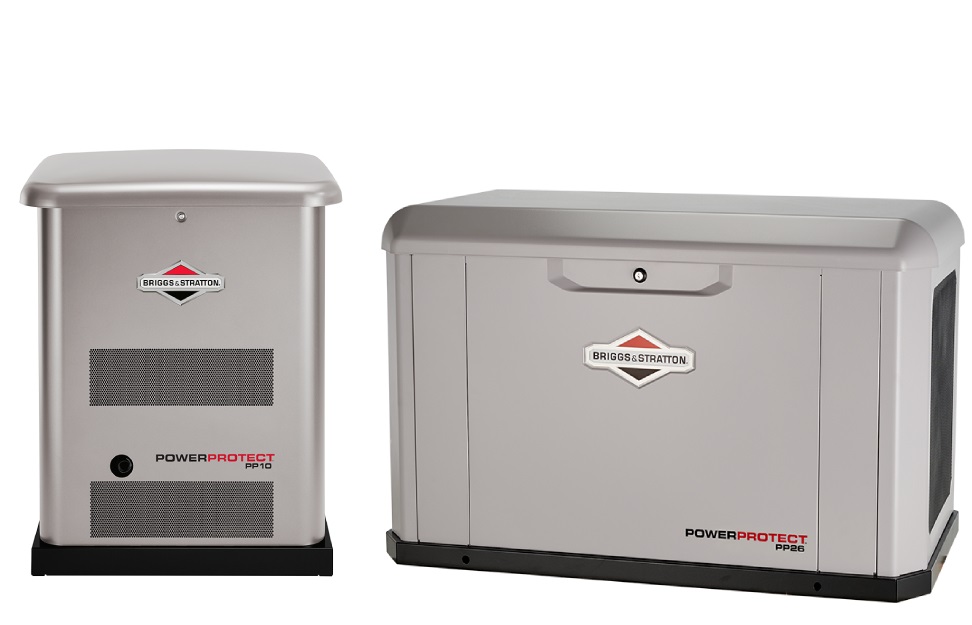 Ready to start protecting your home?
Our buying guide walks you through how a Briggs & Stratton Home Standby Generator beats competitors, including an industry-leading warranty, top-shelf engineering, and superior customer support.