A Quality Generator You Can Rely On
We've been building game-changing power solutions for more than a century — our expertise in creating quality standby generators is second to none. You can be confident that every component in your standby generator will deliver the superior performance you expect. That starts with the heart of our generators: the engine. It's what powers the advanced electrical circuitry inside your generator so it can provide the quiet, clean AC power that keeps your home running.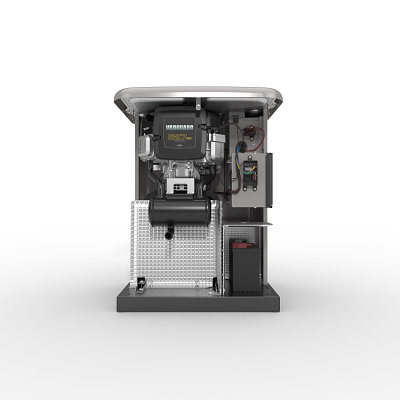 Backup Power You Can Trust
Briggs & Stratton uses only commercial-grade Vanguard® V-Twin engines in our standby generators. These premium engines lead the industry in rugged, reliable operation — quite simply, no other engine outperforms them when it comes to providing durable and dependable power. And it's a major reason a Briggs & Stratton standby generator is an investment you can feel good about.
Putting Generator Components to the Test
Leading industrial and agricultural equipment manufacturers choose Vanguard engines to provide unrelenting power. If industrial machines can work a Vanguard engine this hard, you can be certain that the Vanguard engine in your generator will deliver hassle-free performance when you need it most.
Assembled and Engineered in U.S.A.1
Briggs & Stratton standby generators are American-engineered and -manufactured products from an industry leader. We are proud of the fact that American workers make Vanguard engines as well — in state-of-the-art manufacturing facilities right here in the U.S. We wouldn't have it any other way.
Complete Confidence
Because Briggs & Stratton standby generators are powered by industry-leading engines, we can back them with a 6-year limited warranty — the industry's most comprehensive warranty over time2. No other standby generator has a better warranty than ours.
From using only Vanguard engines to power our generators to delivering a level of service that's unmatched in the industry, everything we do at Briggs & Stratton is purposefully designed to give you confidence and peace of mind. Because that's what matters most.
1Of global and U.S. parts.
22 See operator's manual or BRIGGSandSTRATTON.com for complete warranty details.
---
Ready to start protecting your home?
Our Whole-House Generator Sizing Calculator allows you to select what you want to power in your home and directs you to the appropriate-sized generator system.