California Battery Storage Tax Incentives & Rebates for Residential & Non-Residential Customers
Recent shifts in net metering by the California Public Utilities Commission (CPUC) have signaled a transition from focusing on incentivizing net metering rates to incentivizing battery storage installations in the state. These deep incentives are aimed at rapidly increasing battery storage adoption for both residential and non-residential utility customers. The incentives are geared toward areas where extreme fire and blackouts occur more often, as well as for those reliant on medical equipment. The statistics below highlight some of the reasons the CPUC is encouraging battery storage installation:
By 2050, extreme fires in the Golden State are expected to skyrocket by 30%. (UNEP)

25,281 blackout events occurred in 2019, and more events continue to happen. (Power Outage USA)

176,483 people in California relied on electricity for essential medical equipment to run in 2019. (RAND)
Battery storage systems are revolutionizing the way we approach power, offering a more localized solution to keeping the power on. This reduces our reliance on overburdened power transmission lines. In California, where fires and grid stresses have led to more frequent rolling blackouts, these backup systems have become essential. With battery storage, you can keep the lights on even when the wider grid goes dark.

Medically vulnerable people are most susceptible to power shortages, becoming the first in line to require backup power, according to CEG (Clean Energy Group). Battery storage systems provide resilience by delivering continuous power to medical devices during power outages.

Battery storage is also a key component for supporting renewable energy efforts, according to a plan update from California Governor Gavin Newsom. The plan outlines California's initiative to achieve 100% decarbonization by 2045. SGIP provides rebates to support these efforts with battery storage installations for residential and commercial systems to meet the demands of these particular challenges.
Self-Generation Incentive Program (SGIP)
What is SGIP? The CPUC developed a program called the Self-Generation Incentive Program (SGIP) to encourage new installations of distributed energy systems in California installed on the customer's side of the utility meter.. The main objective of this program is to enhance grid resilience during power outages.
With the increased effects of climate change, growing risks of wildfires, and Public Safety Power Shut-off (PSPS) events, the CPUC approved more than $1 billion for SGIP funds to different regions of California through 2024. A total of $512 million was set aside for new energy storage technology.

Main Funding Targets:

Regions with high-risk wildfires

Communities suffering from multiple PSPS instances (like blackouts)

Low-income clients

Medically vulnerable people
Moreover, the SGIP funds distribution is shown in the figure below:
Figure-1: SGIP program funds distribution (source).
Understanding Rebate Categories
The rebate categories laid out by SGIP reduce the price of battery equipment and installation to free or nearly free. Equity and Equity Resiliency are two of the rebate categories.
Equity
Equity Rebates are a category of the SGIP initiative that aims to provide battery backup energy to communities living in high-risk wildfire areas, low-income areas, and medically vulnerable people. Currently, the SGIP Equity program is receiving $84 million in funding through 2024.
If you fulfill the eligibility criteria, you can receive a high SGIP rebate of $850/kWh (which covers almost 85% of the cost of a battery storage system) within the "Equity" category.
Equity Resiliency
Equity Resiliency is another category of the SGIP initiative that aims to provide battery backup energy to homes impacted by wildfires and PSPS. The Equity Resilience program has $612 million in financing through 2024. The program could be closed after the funds have been exhausted.
Based on eligibility, customers can receive a considerable SGIP rebate of $1,000/kWh (covering 100% of the cost of a battery storage system) within the "Equity Resilience" category.
How does the SGIP rebate work?
The SGIP rebate is provided as a refund when the battery storage system installation is completed, and it covers all or a part of the price of the devices and their installation. The SGIP rebate logistics may change over time and are subject to the CPUC's particular program regulations and standards.
Here are some important considerations for how the rebates are calculated.
Capacity-based SGIP rebates mean that the incentive price depends upon the size of the battery storage system.
Declining incentives mean early adopters receive higher rebates than those who join the program later.
Incentive categories like household, commercial, and government entities are given rebates according to their specific categories.
What is the Eligibility for SGIP?
The eligibility criteria for SGIP incentives vary according to housing type, rebate category, and many other factors. Here are the requirements for both residential and commercial customers.
Equity eligibility criteria (household)
Equity eligibility criteria (commercial)
Equity resilience eligibility criteria (household)
Equity resilience eligibility criteria (commercial)
Manufactured in California Incentive
The CPUC has designated Briggs & Stratton Energy Solutions as an authorized Manufacturer of BESS (battery energy storage systems) in California. That means that California homeowners, as well as business owners, are currently eligible for an extra 20% SGIP rebate on the price of their Briggs & Stratton Energy Storage Systems.
Federal Investment Tax Credit
In addition to these California-specific incentives, under the Federal Investment Tax Credit (ITC), consumers can receive an additional tax credit for their battery installation project. The Inflation Reduction Act of 2022 expanded the federal investment tax credit to include battery storage systems. Homeowners and businesses can now claim a tax credit of 30% of the installation costs for qualifying battery storage systems. This 30% credit applies to systems installed from 2023 to 2032. It will then decrease to 26% in 2033 and further reduce to 22% in 2034. This incentive dramatically reduces the overall investment in battery storage solutions, making it more appealing for those considering energy storage. Always consult with a tax professional to understand the specifics of claiming this credit.
Process for getting SGIP Incentives
The business or homeowner who is eligible for SGIP incentives (as eligibility criteria are mentioned above) should consider the following procedure.
Step 1 - Contact your local battery storage installers/contractors
Step 2 - Get quotes and find out which SGIP program category you are eligible for
Step 3 - Once your installation is complete, ask your installer to help you complete and file the appropriate SGIP paperwork.
Step 4 - Connect with your utility company for any follow-up needs or questions about your SGIP rebate.
SGIP and battery storage in the future
If you're considering the addition of battery storage in California, now is the time to get the greatest financial benefits. Apply for SGIP as soon as possible, as the rebate rates will fall as more batteries are added.
SGIP resources and contact information
Get started on our battery storage journey with the most updated information from your Program Administrator's website.
Official websites for researching rebates
California Public Utilities Commission (CPUC)

Self-Generation Incentive Program (SGIP homepage)

Residential Clean Energy Tax Credits (IRS)
Information is subject to change, contact your local tax professional or visit the above websites for the most up-to-date guidelines.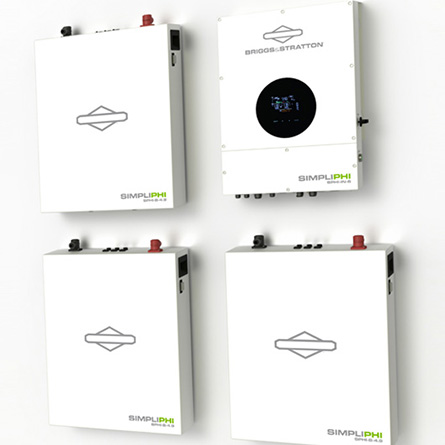 Ready to experience true energy independence?
Request a consultation with a Briggs & Stratton dealer or installer near you by clicking the button below.
References

https://www.managedhealthcareexecutive.com/view/why-energy-storage-so-vital-healthcare
https://www.energy-storage.news/energy-storage-central-to-newsoms-updated-clean-energy-transition-plan-for-california/
https://www.cpuc.ca.gov/industries-and-topics/electrical-energy/demand-side-management/self-generation-incentive-program
https://sgipsd.org/
https://gridalternatives.org/what-we-do/program-administration/dac-sash
https://geomap.ffiec.gov/ffiecgeomap/
https://ia.cpuc.ca.gov/firemap/
https://www.energy.gov/eere/solar/homeowners-guide-federal-tax-credit-solar-photovoltaics
https://www.pge.com/includes/docs/pdfs/shared/solar/solareducation/eligible_SGIP_technologies.pdf