The uncertainty that comes with losing power can be worrying — especially if you have family members who rely on power to stay healthy. 
Karamaneh Winchester is no stranger to that concern. Living in rural Tennessee, Winchester and her family have experienced many intense storms over the years that have left them without power. For most, this would be an inconvenience. For them, it was something more.
Preparing for the worst
Winchester has a son who suffers from respiratory problems and depends on power to keep his environment comfortable. 
"We really like to keep the house at a constant temperature," says Winchester. "In the summer, if the power is out for more than an hour with this humidity, it can get really warm in the house pretty fast. It was always a rush to get everything loaded up and then just hope that we get out before it got too uncomfortable for him."
The process of packing up and being prepared to leave their house in search of power wasn't ideal, but it was necessary for Winchester and her family to protect the child's well being. 
"I would have to get a box together, things like his breathing medications that we have to keep at about a 10 degree range of temperature," says Winchester.  We would get a three month supply at one time, so that was a huge amount of stuff to have to load up."
Eventually, this demanding preparation routine left Winchester exhausted.
"I got really tired of it. I got tired of having to load all of our stuff and always having that worry in the back of my mind that some of his medicine or things could be damaged if we weren't home."
Winchester realized she had to find a better solution to make sure her son was safe if the power went out.
The backup power to stay comfortable
Winchester found that solution in a whole-home generator. After learning about standby generators, she realized they could be a good solution for her family. Winchester did her research and eventually landed on a Briggs & Stratton generator. It's proved a worthwhile investment, she says, especially for their health and mental well-being.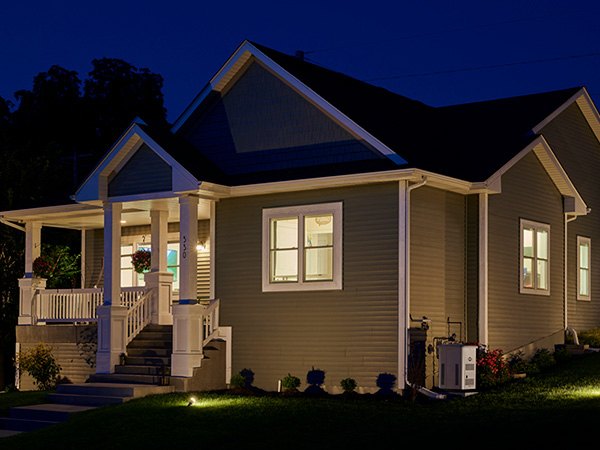 "I don't think you can really put a price on not having to worry," says Winchester. "It's definitely a huge inconvenience when the lights are flickering and you don't know if the power is going to be out, if you're going to be like that for a couple of days, or just 30 minutes. You can't predict that when it's happening. So instead of having to worry and load up a ton of equipment, a ton of medications and things that are temperature sensitive, I don't have to worry."
Not having to worry is a feeling that still hasn't sunk in for Winchester, even several years after the generator's installation.
"I haven't really gotten used to not worrying because I worried for so long until we got it," says Winchester.
An investment in peace
One of the things that Winchester appreciates about their generator is the ease of owning it. The generator performs self maintenance checks each week, so Winchester can put her attention towards other things.
"I like that it does that automatic test and I don't have to do it myself," says Winchester. "I don't have to remember to check the generator to make sure it's working every Sunday. It does it's own little test to make sure everything is good, and if something isn't good, then we know."
Even during a storm or weather event, Winchester feels secure when the power goes out. The generator helped turn power outages from a constant worry to a background thought.
"We don't even know when the power goes out," says Winchester. "We can't hardly even tell. It's only when the clocks and things have to be reset. The generator kicks in so fast."
Another benefit that Winchester appreciates is the easy access to service, parts and maintenance if it's needed.
"We haven't run into any problems, but I like that if parts or something are needed, I know that we can access it very fast," says Winchester. "That was a super big selling point for me. Now that we have this thing, I don't want to be weeks and months out on getting replacement parts."
For the Winchesters, a whole home generator proved a simple addition that provided comfort and consistency in their daily lives. Winchester hopes other families facing similar challenges will be able to find peace from constant worry through the use of a generator if power outages are a problem they face.
"Just having power available, knowing we've got a safety net in place," says Winchester. " It gives the parent of a medically fragile child some peace of mind."
*Generators are not rated for, nor should be used for any medical applications (including critical life support), medical treatment, or used in applications essential for safety, human life or health. Any mention of such are incidental benefits of convenience.
---
Ready to start protecting your home?
Our Whole-House Generator Sizing Calculator allows you to select what you want to power in your home and directs you to the appropriate-sized generator system.