Single Phase 35 kW1 Standby Generator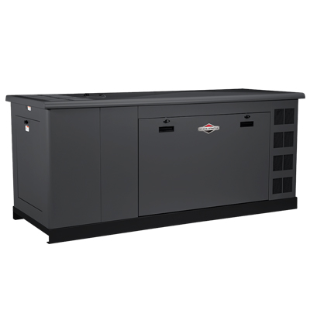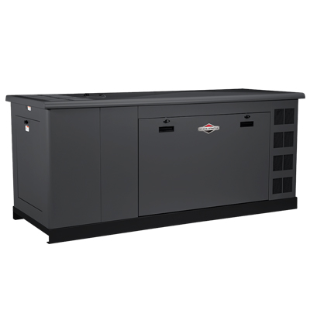 The liquid cooled 35 kW1 standby generator system from Briggs & Stratton® brings commercial-grade reliability to your home. Equipped with new, patented Symphony® II Power Management technology and a GM Vortec engine, the 35 kW1 is designed to handle any and all of the power needs in your extra-large sized home without hesitation. Your family can continue living life uninterrupted during any power outage. Perfect for businesses, the 35 kW1 Commercial Generator is designed for longer product life. Plus, it's backed by the most comprehensive warranty in the industry in the industry - 5-year labor limited warranty2.
MSRP: $11,995.00**
Learn More About This Unit (PDF)
**Unit price only. Installation not included.
FIND A DEALER
Standby Generator Reviews
Product Details
1 This generator is rated in accordance with UL (Underwriters Laboratories) 2200 (stationary engine generator assemblies) and CSA (Canadian Standards Association) standard C22.2 No. 100-04 (motors and generators).
2 Warranty details available at briggsandstratton.com.
3 Installations must strictly comply with all applicable codes, industry standards, laws, regulations and provided installation manual. Running engines give off carbon monoxide, an odorless, colorless, poisonous gas so it is important to keep exhaust gas away from any windows, doors, ventilation intakes or crawl spaces. The installation manual contains specific instructions related to generator placement in addition to NFPA 37, including the requirement that Carbon monoxide detectors be installed and maintained in your home.
4 Fuel consumption rates are estimated based on normal operating conditions at ½ and full load. Generator operation may be greatly affected by elevation and the cycling operation of multiple electrical appliances – fuel flow rates may vary depending on these factors.
Single Phase 35 kW1 Standby Generator
| | |
| --- | --- |
| Running Watts (LP)* | 35,000 |
| Running Watts (NG)* | 32,000 |
| Engine Brand | GM Vortec |
| Engine Series | 3.0L 4-Cylinder, Operating at 1800 RPM |
| Engine Displacement (cc) | 2967 |
| Number of Cylinders | 4 |
| Operation | Computer Friendly |
| Voltage (V) | 120/240, 120/208, 139/240 |
| Running Amps (NG) | 133 |
| Alternator Type | Brushless |
| LP Fuel Consumption** | 50% Load = 32.8 gal/hr |
| NG Fuel Consumption** | 50% Load = 209571 |
| Weekly Exerciser | Yes |
| Battery/Battery Charger | Yes |
| Overcrank Protection | Yes |
| Hour Meter | Yes |
| Diagnostic Alerts with Remote System Status | Low Oil Shutdown, Engine Does Not Start, Low Frequency, Engine Overspeed, Low Voltage, Low Battery Voltage, Oil Temp High, Transfer Switch Fault |
| Short Circuit | Electric |
| Governor Type | Electronic |
| Warranty (Product)*** | 5 Year Parts, Labor & Travel Limited Warranty |
| Length (in) | 84.4 |
| Width (in) | 39.5 |
| Height (in) | 41 |
| Weight (lbs) | 1469 |
| Running Amperage LP | 146 |
*NG = Natural Gas; LP = Liquid Propane.
**Fuel consumption rates are estimated based on normal operating conditions at 1/2 load. Generator operation may be greatly affected by elevation and the cycling operation of multiple electrical appliances - fuel flow rates may vary depending on these factors.
***See Operator's Manual for complete warranty details