How To Locate Your Electric Pressure Washer Model Number
Knowing the model number of your Briggs & Stratton pressure washer will make it easy to order maintenance or repair parts either online or from your local dealer. The model number is generally a number stamped into metal or on sticker directly on your product. Regardless of your pressure washer model number will be in one location. Below is an example of what the pressure washer model number looks like:
---
Step 1: Electric Pressure Washers
---
Step 2: Find Your Model Number and Search

Where to Locate Your Model Number
---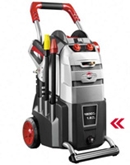 Behind the unit, near the left wheel
Now that you have located your model number...